Southern Shrimp Cravings
Submitted by Christi
I'm craving shrimp today. Not just any shrimp I want Wild American Shrimp – for me, that means from the Gulf of Mexico. Such a wonderful flavor. I don't want to be bamboozled!
I like shrimp most ways but today, I am wanting it barbecued, Pascal's Manale style.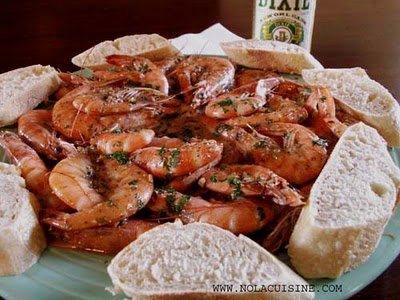 You may need three or more pieces of French bread to soak up all this goodness.
1 pound (21-25 count) shrimp, heads removed
5 teaspoons Manale Spice (recipe follows)
1/2 teaspoon minced garlic
1/2 teaspoon Worcestershire sauce
1/4 teaspoon Louisiana hot sauce
3/4 cup extra virgin olive oil
1/2 cup white wine
1 tablespoon unsalted butter
French bread for serving
Wash shrimp and pat dry. Put shrimp in a large skillet over high heat and add Manale Spice, garlic, Worcestershire sauce and hot sauce, stirring constantly. Pour olive oil over shrimp, then add white wine. Stir to blend all ingredients thoroughly.
Continue cooking over high heat for 8 minutes, stirring frequently. Add butter, and cook an additional 2 minutes until butter is thoroughly melted and blended in. Be careful not to overcook shrimp or they will become tough. Serve with French bread for dipping in sauce.
Manale Spice:
4 tablespoons black pepper
1/4 teaspoon cayenne pepper
1 teaspoon paprika
1 teaspoon salt
1 teaspoon thyme
1 teaspoon oregano
1 teaspoon basil
Combine all ingredients thoroughly and store in a dry, airtight container.
That, my friends, is some gooood stuff! Add a salad and that crusty French bread and it is heavenly!
Today's Lagniappe: Italian Salad with Herbs
A yummy salad to go along with the shrimp. This salad recipe is from Giada De Laurentiis
* 1/4 cup fresh lemon juice
* 2 teaspoons grated lemon peel
* 1 teaspoon honey
* 1 teaspoon salt, plus more for seasoning
* 1/4 teaspoon freshly ground black pepper, plus more for seasoning
* 1/2 cup olive oil
* 1 head romaine lettuce, coarsely chopped
* 4 Belgian endives, thinly sliced crosswise
* 1 cup pitted kalamata olives, halved
* 1 cup (lightly packed) fresh Italian parsley leaves, coarsely chopped
* 3/4 cup (lightly packed) fresh basil leaves, torn into bite-size pieces
Blend the lemon juice, lemon peel, honey, 1 teaspoon of salt, and 1/4 teaspoon of pepper in a blender. With the machine running, gradually blend in the oil.
Toss the lettuce, endive, olives, parsley, and basil in a large bowl with enough dressing to coat. Season the salad with more salt and pepper, to taste, and serve.
Balancing Beauty and Bedlam's Tasty Tuesday
Blessed with Grace's Tempt My Tummy Tuesday
The Gypsy's Corner's Three or More Tuesday
Tags: Southern Food
4 Responses to "Southern Shrimp Cravings"
Leave a Reply