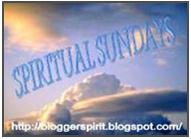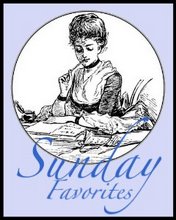 Join Chari at Happy to Design for Sunday favorites and Charlotte and Ginger at Blogger Spirit for Spiritual Sunday and enjoy your Sunday!
Today's favorite is from April of  last year. I had been working in the yard and enjoying the beauty of the earth.
The heavens declare the glory of God; the skies proclaim the work of his hands.
– Psalm 19:1
From April 27th, 2009:
Southern Outdoors
I spent my weekend outside working on the garden. I'm a little sore now but it was well worth it and nothing that a little ibuprofen won't cure.
I love spending time outdoors. Always have. When you are inside, you sometimes, forget that there is a whole other world going on outside. There are birds flying around, singing their songs. The robins loved the freshly turned ground in my garden for gathering worms. The squirrels are, as usual, trying to raid my bird feeder. There are bunny rabbits hopping around. It is a bustling, busy world out there!
As I was working, the wind was blowing quite a bit. Every now and then, I would get a whiff of something sweet. Something sweet that is blooming somewhere and the wind was carrying the scent to me in my garden. I was very thankful for the breeze to cool me off from my toiling in the soil as well as for the lovely scent of blooms.
All of this puts me in mind of Louis Armstrong singing What a Beautiful World. Even with all of the turmoil in the world, all the strife and conflict, it truly is a beautiful world. You just have to stop and see it.
Today's Lagniappe: Prosciutto Wrapped Asparagus
Great as an appetizer or a side dish, this is tasty little bundle.
1/2 pound prosciutto, sliced
1/2 (8 ounce) package cream cheese, softened (try herb cream cheese or other flavors of cream cheese).
12 spears fresh asparagus, trimmed
Preheat oven to 450 degrees.
Blanch asparagus spears in boiling water for 2 to 3 minutes. Submerge in ice water.
Spread prosciutto slices with cream cheese.
Wrap slices around 2 or 3 asparagus spears.
Arrange wrapped spears in a single layer on a medium baking sheet.
Bake 7 – 10 minutes in the preheated oven, until asparagus is tender.