Southern Strawberries
Submitted by Christi
I love strawberries! I decided to try out an idea I had brewing in my brain this past weekend. I took the lemon-thyme cookie dough that I just loved and used it as a crust for individual tart pans.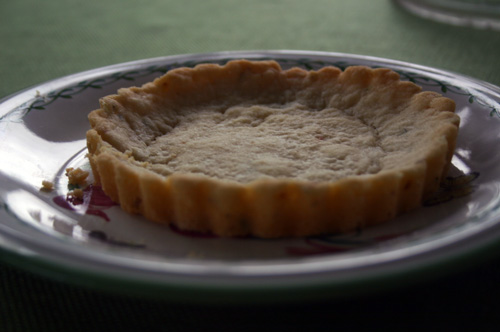 The dough made a beautifully flaky crust for my tarts with a nice lemony, thyme flavor.
In an effort to keep this figure friendly, I added cool whip free (the one with the South Beach diet approval) and lots (3 or more) of sliced strawberries that had been sweetened with Splenda. I added a little lemon zest on top for color and flavor.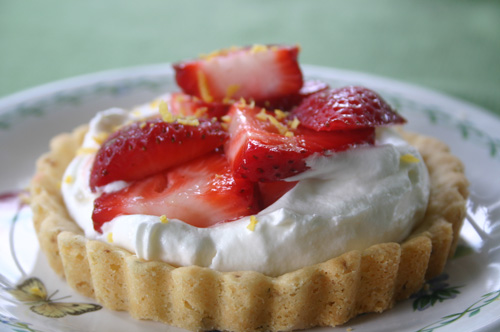 Oh, and by the way, I substituted Splenda in the cookie recipe as well. It was delicious. Think this might be a keeper. Try it and tell me what you think!
Today's Lagniappe: Lemon Thyme Cookies
I know I have posted this a couple of times before. This time is with my new notes!
* 1/2 cup butter, softened
* 1/4 cup granulated sugar (substitute Splenda)
* 1 tablespoon snipped fresh thyme
* 2 teaspoons finely shredded lemon peel
* 1 tablespoon lemon juice (increase this to 3 tablespoons for a more lemony flavor)
* 1-1/4 cups all-purpose flour
* Coarse sugar or granulated sugar (skip this or substitute Splenda)
Directions
1. Preheat oven to 350F. Beat the butter in a medium mixing bowl with an electric mixer on medium to high speed for 30 seconds. Add 1/4 cup granulated sugar until combined. Beat until combined, scraping sides of bowl occasionally. Beat in thyme, lemon peel,  and lemon juice. Beat in as much of the flour as you can with the mixer. Stir in any remaining flour with a wooden spoon. Knead until smooth; form mixture into a ball.
2. Divide dough into three equal portions. Roll each portion into a 6×4 1/2-inch rectangle (about 1/4 inch thick) on a lightly floured surface. Cut dough into 1 1/2-inch squares with a scalloped-edge pastry wheel. Sprinkle cutouts with coarse sugar. Place cutouts on ungreased cookie sheets.
3. Bake in preheated oven for 12 to 15 minutes or until edges are just lightly brown. Transfer to wire racks and let cool. Makes 36 cookies.
4. To store: Place cookies in layers separated by pieces of waxed paper in an airtight container; cover. Store at room temperature for up to 3 days or freeze for up to 3 months. Thaw cookies, if frozen, before serving.
Note:  If you want to use this in a tart pan, you will need to add more flour and be sure to flour your hands well!
Balancing Beauty and Bedlam's Tasty Tuesday
Blessed with Grace's Tempt My Tummy Tuesday
The Gypsy's Corner's Three or More
Tags: Southern Food
12 Responses to "Southern Strawberries"
Leave a Reply