Southern Corn
Submitted by Christi
Just saw at the grocery store that Florida corn was in and on sale! Why do I love Florida corn? The truth is because my Mama always told how good it was and it is imprinted on my brain. My taste buds just naturally follow, but I think that it really is good!

Corn is such a versatile vegetable. In the winter, I love it in a corn pudding. In the summer, grilled or roasted is the way to go! You know, I'll be stocking up!
Today's Lagniappe:  Corn Salad
Another great way to enjoy sweet corn in the summertime.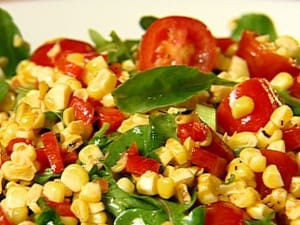 * 6 ears corn, husked and cleaned
* 3 large tomatoes, diced
* 1 large onion, diced
* 1 cucumber, peeled, seeded and diced
* 1/4 cup chopped fresh basil
* 1/4 cup vegetable oil
* 2 tablespoons white vinegar
* salt and pepper to taste
Directions
1. Bring a large pot of lightly salted water to a boil. Cook corn in boiling water for 7 to 10 minutes, or until desired tenderness. Drain, cool, and cut kernels off the cob with a sharp knife.
2. In a large bowl, toss together the corn, tomatoes, onion, cucumber, basil, oil, vinegar, salt and pepper. Chill until serving.
Balancing Beauty and Bedlam's Tasty Tuesday
Blessed with Grace's Tempt My Tummy Tuesday
The Gypsy's Corner's Three or More
Tags: Southern Food
7 Responses to "Southern Corn"
Leave a Reply