We are getting ready for Memorial Day next week. I took a look back at how I got ready for Summer's patriotic holidays last year. The table on my porch went from this: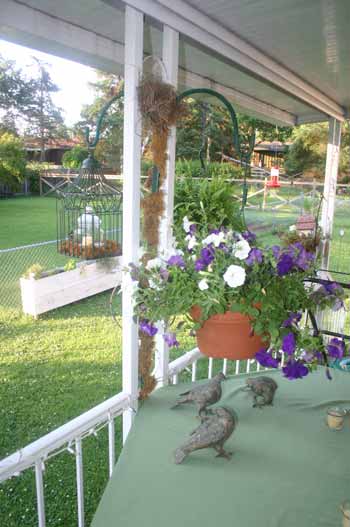 to this:
With the addition of a few flags, some red and blue twizzle sticks and a red, white and blue ribbon, this table was transferred from a garden party table to a festive, patriotic celebration table.
Hope everyone has a great Monday!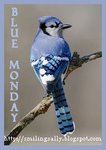 Visit Susan at Between Naps on the Porch for Metamorphosis Monday and Smiling Sally for Blue Mondays. You will find wonderful and talented women with fantastic posts!
Hope everyone has a wonderful week starting with a fantastic Monday!
Today's Lagniappe: Blueberry Coffee Cake
2 cups flour
1 cup sugar
2 tsp. baking powder
1 tsp. salt
1 1/2 tsp. grated lemon peel
1/2 cup butter, softened
1 cup milk
2 eggs slightly beaten
1 tsp. vanilla
2 cups fresh or frozen blueberries
Icing:
1 cup powdered sugar
1/4 tsp. almond extract
3-5 tsp. milk
Directions:
Heat oven to 375. Grease a 13×9 inch pan. In large bowl, combine flour, sugar, baking powder, salt and lemon peel. Using pastry blender or fork, cut in butter. Add milk, eggs and vanilla. Stir well. Pour 3/4 batter into greased pan.
Top with blueberries. Spoon remaining batter over blueberries. Bake for 35 minutes. Cool 30 minutes. In small bowl , blend icing ingredients. Drizzle over warm cake.