Southern Reunions
Submitted by Christi
What a day it has been. As I came home from running some errands, I found a beautiful chocolate lab running down the middle of my street dragging a blue leash. If you have read this blog, you know what a dog (and cat) lover I am. Well, the sweet dog came right to me. I picked up his leash and took him to our back yard, thinking, okay, now I have to find the owner!
As it turns out, it took a few (three or more) neighbors, pulling together to find this sweet dogs owner. After a few misses, we located the owner, but alas, they were not home. Their gate, however, was left open and we could see how the dog got loose. We gave the dog some food and water and waited until the neighbor got home.
Turns out this wonderful dog was a grand champion! He is eleven years old and is quite the escape artist. Well, we were so happy to have this sweet boy back home with his family. Our little lhasa apso and our sweet kitty, Calli, were relieved as well.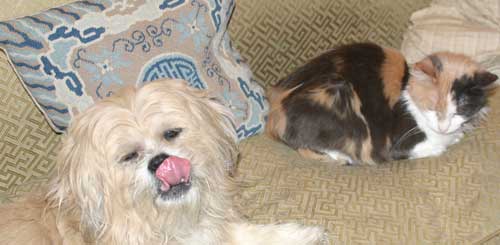 This sweet dog was a little too big for their minds!
So, today I am sharing a grand champion recipe. Just thought it was fittin'!
Today's Lagniappe:  Pecan Pie Cake
A champion recipe if ever there was one – Enjoy!
CAKE
* 3 cups finely chopped pecans, toasted
* 2 cups flour
* 1 teaspoon baking soda
* 1/2 cup butter, softened
* 1/2 cup shortening
* 2 cups sugar
* 5 egg yolks
* 1 tablespoon vanilla extract
* 1 cup buttermilk
* 5 egg whites
* 3/4 cup dark corn syrup
PECAN PIE FILLING
* 1/2 cup packed dark brown sugar
* 3/4 cup dark corn syrup
* 1/3 cup cornstarch
* 4 egg yolks
* 1 1/2 cups half-and-half
* 1/8 teaspoon salt
* 3 tablespoons butter
* 1 teaspoon vanilla extract
1. MAKE THE CAKE: Sprinkle 2 cups of the pecans evenly over the bottoms of 3 buttered 9″ round cake pans, shaking to coat both the bottoms and sides of the pans.
2. Combine the flour and baking soda in a bowl; mix well.
3. In another bowl, using an electric mixer on medium speed, cream together the butter and shortening until light and fluffy.
4. Gradually beat in the sugar.
5. Add the egg yolks, one at a time, blending well after each addition; blend in the vanilla.
6. Add the flour mixture and buttermilk alternately, blending well after each addition, beginning and ending with the flour mixture.
7. Stir in the remaining 1 cup pecans.
8. In a clean bowl, using an electric mixer with clean beaters on medium speed, beat the egg whites until stiff peaks form.
9. Fold 1/3 of the whites into the batter to lighten it; fold in remaining whites.
10. Pour batter evenly into the prepared pans.
11. Bake at 350*F.
12. for 25 minutes, or until a toothpick inserted in the center comes out clean.
13. Cool 10 minutes in pans on wire racks; invert onto waxed paper-lined wire racks.
14. Brush the tops and sides of the layers with the corn syrup; cool completely.
15. MAKE THE FILLING: Whisk together the brown sugar, corn syrup, cornstarch, egg yolks, half-and-half, and salt in a heavy 3-quart saucepan until smooth.
16. Bring to a boil over medium heat, whisking constantly; boil for 1 minute, or until the mixture thickens.
17. Remove pan from heat; whisk in the butter and vanilla.
18. Place a sheet of waxed paper on the surface of the mixture; chill for 4 hours.
19. ASSEMBLE THE CAKE: Place 1 cake layer, pecan side up, on a serving dish; spread with 1/2 the filling.
20. Place the second cake layer, pecan side up, over the filling; spread with the remaining filling.
21. Place the third cake layer, pecan side up, on top of the filling.
22. Serve with whipped cream; store covered in the refrigerator.
23. Bring to room temperature before serving.
Balancing Beauty and Bedlam's Tasty Tuesday
Blessed with Grace's Tempt My Tummy Tuesday
The Gypsy's Corner's Three or More
Tags: Southern Food
6 Responses to "Southern Reunions"
Leave a Reply