Southern River Cabin
Submitted by Christi
Sunday afternoon, we visited with Ann and Randall Messick at their river cabin. It is a fabulous place right on the river. They have made it very cozy and it is now for sale! The perfect spot for someone who wants to get away from it all on the banks of the beautiful White River which is well known for it's fabulous fishing.
Ann and Randall redid the floors. See the wonderful wood stove. The windows lead you to a screened in porch.
Ann took the fronts of her mothers old cabinets and put them on top of the kitchen cabinets. I love how the red color pops in this room.
Ann found this fabulous stove with cast iron burners and the rack behind is a great touch. Perfect for hanging your pots and pans.
Well, the picture didn't turn out as I had planned, but I love that you can see what the view is from the kitchen table. The table belonged to Ann's parents and it goes with the cabin.
I love the glass fronted cabinets in the kitchen.
Even the bedroom has a fabulous view! There is another bedroom and a bathroom.
I think Ann and Randall have done a great job on their cabin and I don't know how they can bear to part with it. But, they are. If you want more details, give them a call and check out their website.
Sorry, Miss Lilly doesn't come with the deal.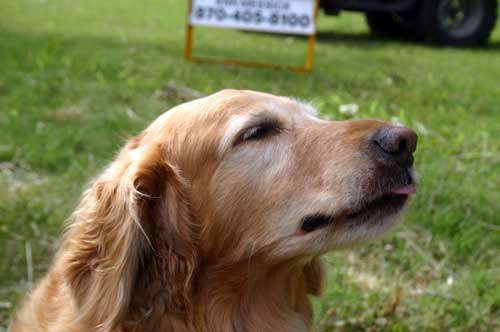 I'll be showing you more from the river cabin this week. Yes, we even did a tablescape while we were there!
This is Monday so it must be:
Today's Lagniappe:  Gaston's Trout Amandine
I found this recipe at All Recipes and thought it was so appropriate. Gaston's is farther up the White River from this river cabin. You may have seen some of Jim Gaston's fabulous photos on this blog before. The White River is renowned for it's trout fishing. Enjoy!
* 4  medium rainbow or brook trout, cleaned
* 2  tablespoons  fresh lemon juice
* Cracked pepper
* 1/2  cup  butter or margarine, divided
* 1 1/2  cups  slivered almonds
* 1/4  cup  fresh lemon juice
* 2  tablespoons  minced fresh parsley
* Garnish: lemon slices
Brush trout with 2 tablespoons lemon juice, and sprinkle with cracked pepper.
Melt 2 tablespoons butter in a large nonstick skillet over medium-high heat; add 2 trout, and cook 6 to 8 minutes, turning once, or until fish flakes easily when tested with a fork. Remove to a serving platter, and keep warm. Repeat procedure with remaining butter and trout. Wipe drippings from skillet with a paper towel.
Melt remaining 1/4 cup butter in skillet; add almonds, and sauté until golden. Stir in 1/4 cup lemon juice and parsley; pour over trout. Garnish, if desired.
Tags: Southern Places
6 Responses to "Southern River Cabin"
Leave a Reply