Southern – Amercian Flag
Submitted by Christi
It is time for
Monday, June 14th is flag day! I thought this would be the perfect time to change out our old flag for a new one.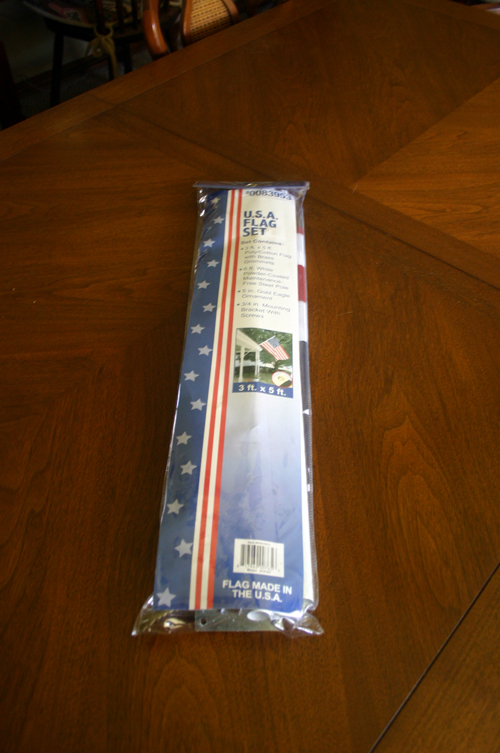 It is now out and flying proudly!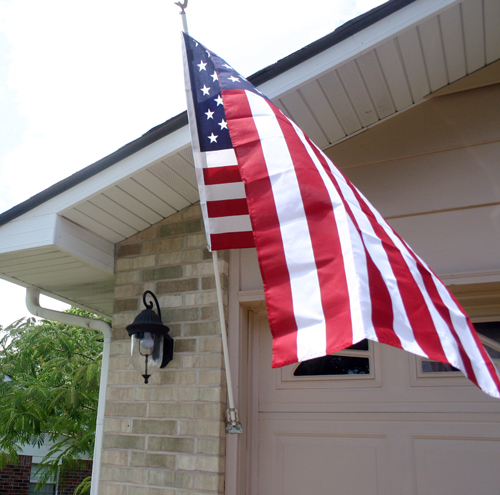 I love how the flag looks against the backdrop of a blue sky with white fluffy clouds.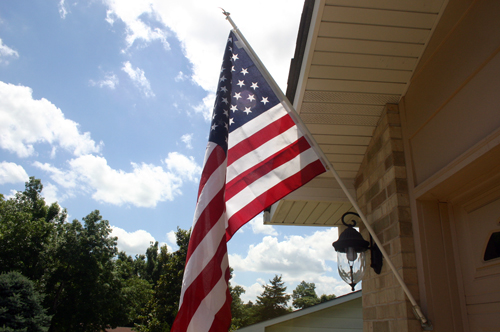 Wondering what to do with your old flag? Take it to a local Boy Scout troop or American Legion The will ceremoniously dispose of it with the dignity it deserves.
Flag Day, in the United States is always celebrated on June 14th.  Our flag is representative of our independence and our unity as a nation – one nation, under God, indivisible. Our flag has a proud history. It was at the lead of every battle fought by Americans. Many people have died protecting it.
Some more information about flag etiquette:
The flag is normally flown from sunrise to sunset.
In the morning, raise the flag briskly. At sunset, lower it slowly. Always, raise and lower it ceremoniously.
The flag should not be flown at night without a light on it.
The flag should not be flown in the rain or inclement weather unless it is made of all-weather material.
After a tragedy or death, the flag is flown at half staff for 30 days. It's  called "half staff" on land ,and "half mast" on a ship.
When flown vertically on a pole, the stars and blue field , or "union", is at the top and at the end of the pole (away from your house).
The American flag is always flown at the top of the pole. Your state flag and other flags fly below it.
The union is always on top. When displayed in print, the stars and blue field are always on the left.
Never let your flag touch the ground.
Fold your flag when storing. Don't just stuff it in a drawer or box.
Hope everyone has a wonderful Flag Day!
I pledge allegiance to the Flag
of the United States of America,
and to the Republic for which it stands:
one Nation under God, indivisible,
With Liberty and Justice for all.
Today's Lagniappe:  Patriotic Flag Dessert
From Kraft Recipes!
3 cups boiling water, divided
2 pkg.  (4-serving size each) JELL-O Berry Blue Flavor Gelatin
2 cups ice cubes, divided
2 pkg.  (8 oz. each) PHILADELPHIA Cream Cheese, softened
1/4 cup sugar
1 tub  (8 oz.) COOL WHIP Whipped Topping, thawed, divided
2 pkg. (4-serving size each) JELL-O Strawberry Flavor Gelatin, or any red flavor
2 cups  halved strawberries
1/2 cup blueberries
Make It!
STIR 1-1/2 cups of the boiling water into dry blue gelatin in medium bowl at least 2 min. until completely dissolved. Add 1 cup of the ice cubes; stir until ice is completely melted. Pour into 13×9-inch dish. Refrigerate 20 min. or until gelatin is set but not firm.
PLACE cream cheese, sugar and half of the whipped topping in large bowl; beat until well blended. Spoon over blue gelatin layer in dish; spread carefully to evenly cover gelatin layer. Stir remaining 1-1/2 cups boiling water into strawberry gelatin in separate bowl at least 2 min. until completely dissolved. Add remaining 1 cup ice cubes; stir until ice is completely melted. Let stand at room temperature 5 min. or until slightly thickened. Spoon over cream cheese layer in dish. Refrigerate 3 hours or until set.
SPREAD remaining whipped topping over dessert just before serving. Decorate with strawberries and blueberries to resemble a flag. Store leftover dessert in refrigerator.
Tags: Southern Holiday
8 Responses to "Southern – Amercian Flag"
Leave a Reply