Southern Catfish
Submitted by Christi
You know, around here, we love our catfish. We love it fried, grilled, baked, blackened . . . okay, so stop me, I am getting carried away. Including the yummy remoulade, there are 3 (or more) recipes here today!
One of our favorite ways to have catfish during the summer heat is grilled (as in, keep that heat outside!). Occasionally, we have a filet left over. Well, don't worry about that. We'll just make catfish salad!
Here is one version I saw from uscatfish.com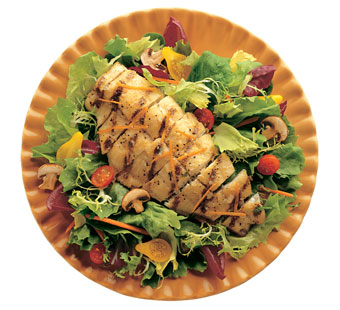 2  U.S. Farm-Raised Catfish fillets
1/4 pound white mushrooms, thinly sliced
1/4 cup olive oil
1 1/2 tablespoons balsamic vinegar
1 tablespoon fresh tarragon, chopped (or 1 teaspoon dried tarragon)
1 small shallot, finely chopped (optional)
1/2 teaspoon salt
1/2 teaspoon freshly ground black pepper
4 cups mixed salad greens such as arugula, chicory, escarole, mustard and radicchio, washed and torn into bite-size pieces and dried
1. Place catfish fillet strips and mushrooms in a shallow dish. Mix olive oil, vinegar, tarragon, shallot, salt and pepper in a small bowl using a wire whisk until well blended.
2. Pour two-thirds of the marinade over the catfish. Cover dish with plastic wrap and refrigerate for 30 minutes to marinate. Reserve remaining marinade to use as salad dressing.
3. Prepare a grill or preheat the broiler.
4. Place catfish fillets on an oiled grill rack or broiler pan rack. Grill or broil 4 inches from the heat source for 2 or 3 minutes on each side or until fish flakes easily when tested with a fork. Allow to cool slightly; serve warm.
5. Toss salad greens, mushrooms and reserved marinade in a large bowl. Top with grilled catfish.
My version is a like this:
Today's Lagniappe: Grilled Catfish Salad
1 grilled catfish filet, cooled and chopped
assorted salad greens
Christi's remoulade
Your favorite croutons
Mix all the ingredients together and enjoy!
Christi's Remoulade:
Use in amounts that suit your tastes
Zatarains creole mustard
Mayonnaise
Red chili sauce (not much)
Horseradish
Worcestershire sauce (a dash)
Garlic
Mix together. Refrigerate for at least 30 minutes before serving.
Balancing Beauty and Bedlam's Tasty Tuesday
Blessed with Grace's Tempt My Tummy Tuesday
The Gypsy's Corner's Three or More
Tags: Southern Catfish
7 Responses to "Southern Catfish"
Leave a Reply