Southern Flamingos
Submitted by Christi
This past week, one of my Facebook friends posted some really cute pictures of some kitschy flamingos that were used to decorate a table  for  a pink benefit golf tournament. I emailed her and asked for permission to use her pictures but haven't heard back yet. I'll definitely post them later on this post if I hear from her!
In the meantime, I got to thinking about the flamingo decorations that have been around for years (actually, since 1957). They were kind of viewed as being a bit tacky back in the day, but now they have achieved a status of being the ultimate, fun retro kitsch.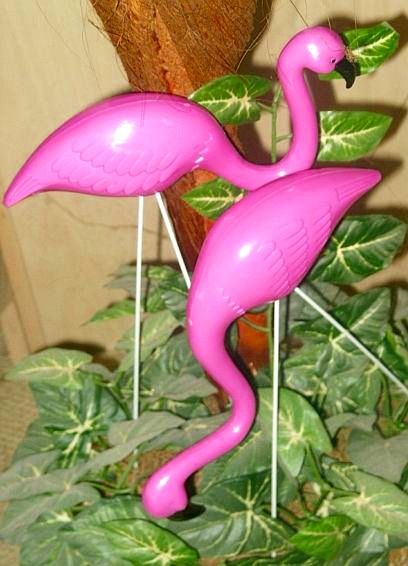 The original flamingos always came in pairs – one standing upright and the other with it's head down. Now you can buy them in bulk and really go crazy.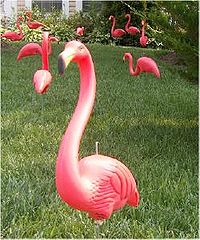 You can even buy costumes for your flamingo!

How fun is that? If you are having a tropical themed party – well, don't they just scream tropical?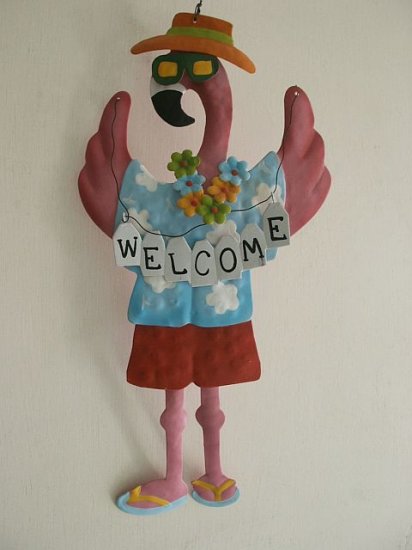 Let's have a look at the real thing.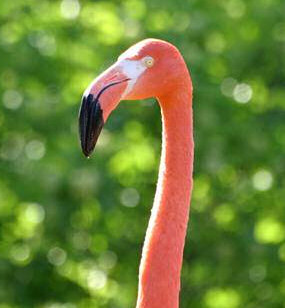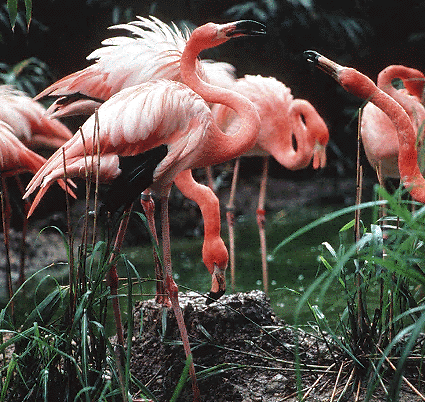 Happy Pink Saturday!
Today's Lagniappe:  Pink Fluff
A retro dessert to go with those pink flamingos!
2 small boxes Raspberry Jell-O
1 large can crushed pineapple, drained
1 8 oz pkg cream cheese, room temperature
1 9 oz tub Cool Whip
1/2 cup chopped pecans or nuts
Dissolve Jell-O in 2 cups boiling water.
In a blender, combine Jell-O and cream cheese. Refrigerate until the mixture has thickened slightly.
Stir in the pineapple and nuts. Fold in the Cool Whip.
Transfer mixture to a pretty mold and refrigerate for at least 4 hours.
When ready to serve, dip the outside of mold into hot water for a few seconds to release. Run a butter knife along the edge. Flip over onto a dish and serve.
4 Responses to "Southern Flamingos"
Leave a Reply