Southern Herbs
Submitted by Christi
My friend, Paula, brought me some herbs from her garden today. She brought cinnamon basil, lemon thyme and lemon balm. What a wonderful surprise. I had seen a recipe for cinnamon basil cookies before and that is what I will make with the cinnamon basil that Paula brought to me!
You can use Cinnamon Basil in any recipe that calls for basil. The sweet flavor is very good when used with other fruity flavored herbs. Pick the leaves and use them in cooking or put them in bottles of olive oil to make cinnamon-flavored oil. The oil would be good to use for frying apples or bananas. You can add this herb to your apple pie fillings, and it tastes great added to an apple sauce or raisin sauce for pork or ham.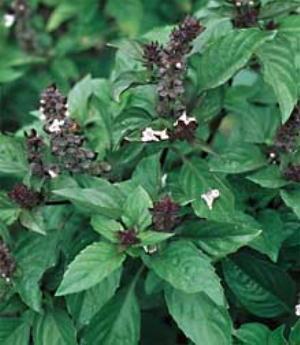 Today's Lagniappe:  Cinnamon Basil Cookies
A lovely herb for:
2 c. flour
1/2 tsp. baking powder
1/2 tsp. salt
2/3 c. soft butter
1 c. sugar
1 egg
1 tsp. vanilla
1 tbsp. finely chopped lime peel
3 tbsp. chopped fresh cinnamon basil or 1 1/2 tbsp. dried cinnamon basil
1 c. chopped pistachio nuts
Sift dry ingredients and set aside. Beat butter and add sugar, egg, vanilla, basil and peel gradually until fluffy. Beat in dry ingredients 4 items at a time. Fold in nuts. Turn out dough on floured surface, divide into 4.
Make each roll 5 inches long and roll in plastic wrap. Chill overnight. Slice dough 1/8 inch thick and place 2 inches apart on ungreased cookie sheet. Bake 8-10 minutes at 375 degrees until lightly brown. Cool on wire racks. Store in airtight container.
Tags: Southern Food
4 Responses to "Southern Herbs"
Leave a Reply