Southern Retro
Submitted by Christi
First a note to some of you with blogspot blogs. I went to visit several of my friends with blogspot blogs today and they would not allow me to leave a comment.  I'll try again later. Hopefully, it was just a temporary thing.
Anyway, I was thinking back to my younger days today and remembering some of the things my mother used to make for parties.
There were the little wienies in the crockpot with grape jelly and barbecue sauce. This sounds strange but it was really good. You put some on your plate and ate them with a toothpick.
Which reminds me . . . I was looking for some cocktail forks tonight and ended up wondering how it is I came to possess so many fondue forks. I actually found 3 sets of fondue forks! Is that strange, or what?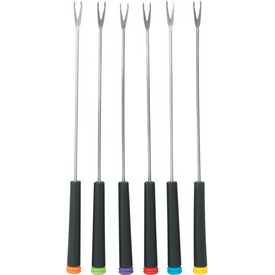 Okay, anyway, where was I? Oh yes, thinking of those things my mother used to make for parties. Oh yes, Rotel dip. Oh yes, I was asked what Rotel was and I never got a chance to reply to that. Rotel is a brand name and it is canned tomatoes with chili peppers. Kind of spicy and when you mix it with melted Velveeta cheese it makes a mighty tasty dip for Fritos!
She made lots of different kinds of cheese balls and party mix and dips for lots of friends who were always there to visit.
One of my favorites was hot cheese olives. The olives on the inside are encased in a kind of cheese straw kind of crust. They are so yummy!
Today's Lagniappe:  Hot Cheese Olives
1 stick of softened butter
2 cups (8 oz.) grated extra-sharp cheddar cheese (at room temperature)
1 1/2 cups flour
dash of salt
1/4 teaspoon cayenne pepper
dash of Worcestershire sauce
1 large egg
50 small pimento-stuffed olives, drained and patted dry
Preheat oven to 350. Beat the butter until creamy in a large mixing  bowl. Add the cheese and mix well. Stir in the flour salt, cayenne and Worcestershire. Been the egg and add to the dough and mix until just incorporated.
Refrigerate the dough for 30 minutes.
Remove the dough from the refrigerator and pinch off a piece about the size of a walnut. Flatten the walnut size piece of dough in your hand. Place an olive in the middle and wrap the olive with the dough. Repeat until all of the olives are used.
Place dough wrapped olives on a cookie sheet and bake for 15 minutes until done.
Serve hot.
Balancing Beauty and Bedlam's Tasty Tuesday
Blessed with Grace's Tempt My Tummy Tuesday
The Gypsy's Corner's Three or More
Tags: Southern Food
5 Responses to "Southern Retro"
Leave a Reply