Late July and Early August are really hot around here and also very humid. It has been said that the humidity is what gives Southern girls their wonderful complexions! It may also be responsible for some really bad hair days. I don't even try to fight the curls in the summer. Just not worth it. My summer do is definitely of the naturally curly variety.
This is also a great time to harvest all that wonderful goodness from the garden or at least the farmer's market. I've been putting up okra.
Some people use a buttermilk batter when they fry their okra. That is not the way I grew up eating it. The way my mother made it is by just cutting it in to  slices and tossing it in a mixture of cornmeal with a little flour and salt and pepper (I also add garlic powder to mine). It is easy to prepare to freeze that way as well. Just process it and put it in freezer bags and in to the freezer and it is ready whenever you are.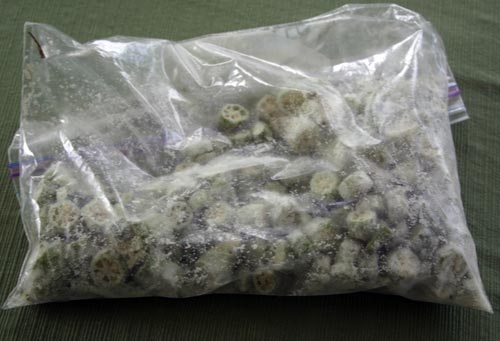 When you are ready, just heat up some oil with a bit of bacon grease to around 350 and gently drop the okra in the pan and fry until golden. YUMMY!
This is also the time of year when there is a good harvest of tomatoes. In my case, this year I have cherry tomatoes in pots with basil.
We have been making frequent trips to Jonesboro, Arkansas this summer for our business. One of the fun/scary sights of summer, we see on our trip over. It is KUDZU! Yes, the kudzu that is eating it's way across the South!
The kudzu transforms trees and power poles into giraffe like figures and an ordinary bush looks like a green leafy monster. Lots of fun!
This time of year is also when the morning glory really comes in to it's own.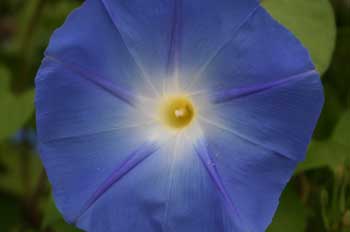 Yes, it is really hot and really beautiful and quite tasty as well!
Today's Lagniappe: Bananas Foster Cheesecake
Saw this recipe and thought is sounded fabulous!
Crust:
3/4 cup all purpose flour
3/4 cup finely chopped pecans
4 tablespoons (1/2 stick) unsalted butter, melted
3 tablespoons sugar
2 tablespoons (packed) golden brown sugar
1 1/2 teaspoons vanilla extract
Filling:
2 8-ounce packages creme cheese, room temperature
1 1/4 cups sugar
2 tablespoons cornstarch
3 large eggs
2 cups puréed bananas (from about 4 bananas)
1 cup sour cream
1 1/2 tablespoons fresh lemon juice
1 teaspoon vanilla extract
1 teaspoon ground cinnamon
Pinch of salt
Topping:
1 cup sour cream
1/4 cup sugar
1/4 teaspoon vanilla extract
1 17-ounce jar caramel sauce
2 tablespoons dark rum
2 bananas, peeled, sliced
For crust:
Position rack in center of oven and preheat oven to 350°F. Wrap outside of 9-inch diameter springform pan with 3-inch -high sides with heavy-duty foil. Combine flour, pecans, butter, sugar, brown sugar and vanilla in large bowl. Mix well. Press mixture onto bottom of prepared pan.
For filling:
Using electric mixer, beat cream cheese in large bowl until smooth. Gradually beat in sugar. Beat in cornstarch. Add eggs, 1 at a time, beating until just blended after each addition. Add puréed banana, sour cream, lemon juice, vanilla, cinnamon and salt. Beat just until combined.
Transfer filling to crust-lined pan. Place pan in large roasting pan. Add enough hot water to roasting pan to come 1 inch up sides of springform pan. Bake until center of cake is just set, about 1 hour 15 minutes. Remove cake from oven. Maintain oven temperature.
Meanwhile, prepare topping:
Mix together sour cream, sugar and vanilla in small bowl until well blended. Spread topping over cheesecake. Bake until topping is set, about 10 minutes. Turn off oven. Let cake stand in oven until cooled to room temperature, about 2 hours. Refrigerate cake until well chilled. Cover and refrigerate overnight.
Cut around cake to loosen; remove pan sides. Transfer cake to platter. Warm caramel sauce in small saucepan over low heat, stirring often. Mix in rum. Drizzle some sauce decoratively over cake. Arrange bananas top cake.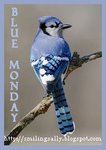 Visit Susan at Between Naps on the Porch for Metamorphosis Monday and Smiling Sally for Blue Mondays. You will find wonderful and talented bloggers with fantastic posts!
Balancing Beauty and Bedlam's Tasty Tuesday
Blessed with Grace's Tempt My Tummy Tuesday