Southern Sunflowers!
Submitted by Christi
Sunflowers just always seem so happy with their heads turned to the sun and their bright yellow colors. I wanted to use sunflowers to decorate. I found an little old bench that had seen better days and painted it with sunflowers! I had instructions on painting sunflowers before. Wish I could remember the name of the painter who wrote the instructions. They were easy and I loved painting them.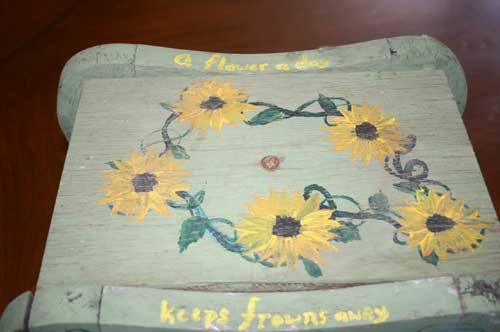 The writing on the top and bottom reads, "A flower a day, keeps frowns away." I think my lettering could use a little work.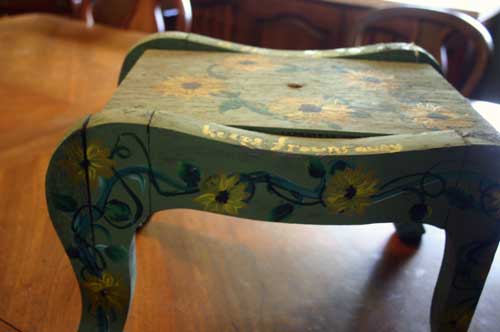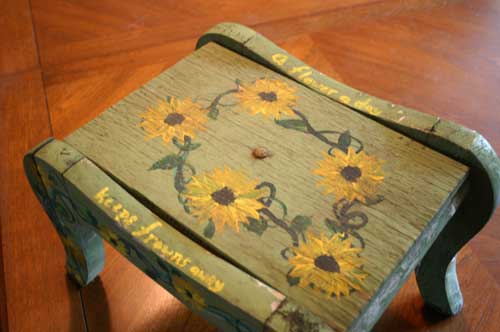 I also found some fun sunflower-y fabric and made some cute little pillows for the chairs on the porch.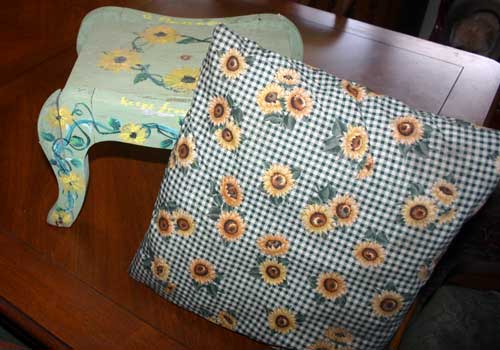 I'm thinking I may see a sunflower themed tablescape on the porch coming up soon! These pictures were taken inside because it was pouring down rain when I took them. It is back to being sunny right now.Just before the rain started, I went out in the yard and snapped this pic of a sunflower that is about ready to bloom: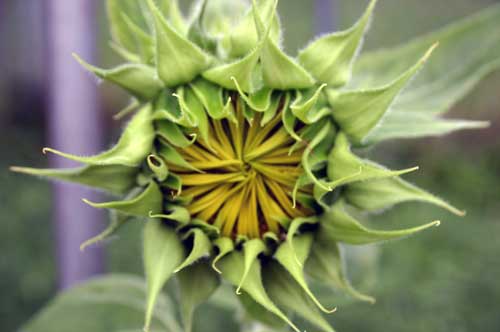 Isn't that pretty? I loved it :
Hope you find lots of inspiration this week in all that is around you and also at Susan's for
Today's Lagniappe: Sunflower Cheese Balls
Sunflower seeds are very good for you and here is a fun way to eat them!
4 ounces Muenster cheese, room temperature
4 ounces cream cheese, room temperature
1/2 teaspoon Worcestershire sauce
1/4 teaspoon paprika
1/8 teaspoon red pepper
2/3 cup roasted, salted sunflower kernels
Combine cheeses, blend thoroughly. (Use food processor, if possible.) Add Worcestershire sauce, paprika, and red pepper; blend. Refrigerate at least 30 minutes. Roll in sunflower kernels immediately. Refrigerate cheese balls 2 hours. Serve with whole-grain crackers, bread sticks or miniature bread slices.
Makes 25 cheese balls
4 Responses to "Southern Sunflowers!"
Leave a Reply