Southern Sunny Table
Submitted by Christi
It is hot, hot hot here! As I write this, the heat index is 101 – down from 105 today! So, summer is in full swing. What makes me think SUMMER? The sunflower!
Earlier this week I posted this pic of a sunflower about to bloom.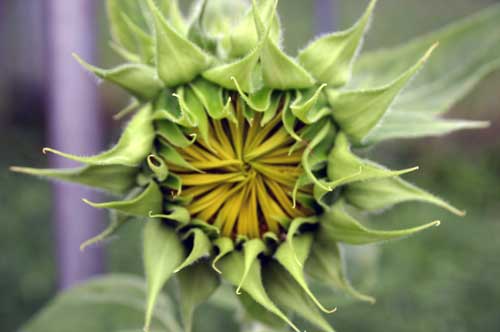 Now it looks like this: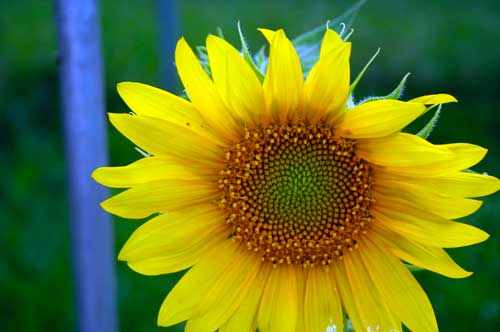 I love those colors and it reminded me of some of my china that has sunflowers on it.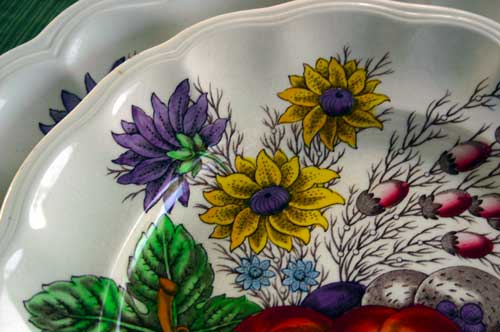 So, of course, I braved the heat and set the table for a late evening supper on the back porch.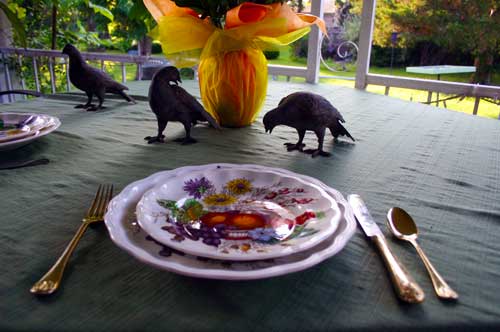 The sunflower china (Spode – Reynolds) with golden flatware and some summery flowers.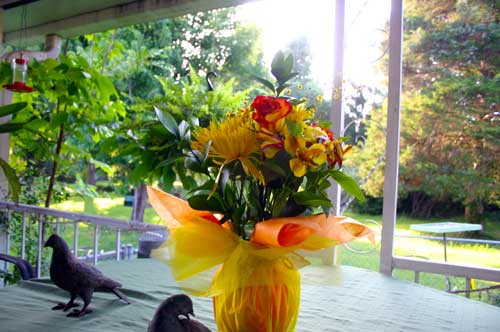 See the bird feeder in the background. The doves that were feeding flew off when I went out. Hated to disturb them 🙂
A close up of the summer flowers: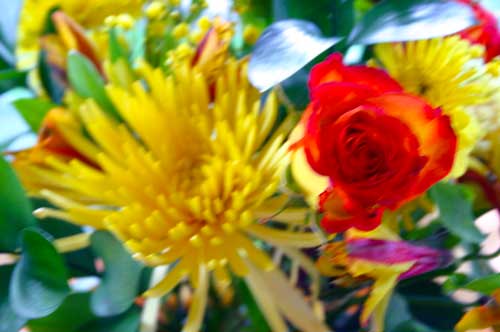 And, of course, my table doves were invited too!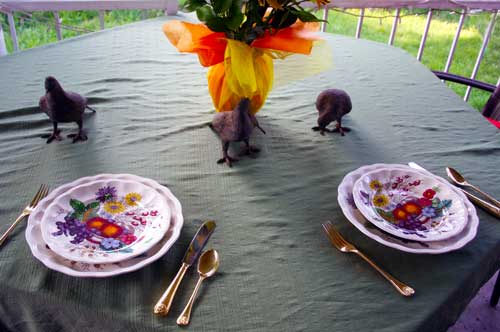 Happy summer evening! Hope you enjoyed this tablescape and will go and visit a lot more at:
Today's Lagniappe:  Smothered Okra
Found some okra, along with some heirloom tomatoes and some other delicious treats at the Farmer's Market today!
1/3 cup vegetable oil
2 pounds okra, washed under cool water, stemmed and cut crosswise into 1/2-inch slices
3 cups chopped onions
2 cups chopped bell peppers
1 cup chopped celery
2 (1-pound) cans whole tomatoes, crushed with their liquid
3 teaspoons salt
1/2 teaspoon cayenne or Cajun seasoning
3/4 cup water or chicken broth
Preheat the oven to 350º F degrees. Pour the oil into the bottom of a large roasting pot, not cast iron. Add the remaining ingredients and stir to mix well. Cover the pot with a lid. Bake, stirring occasionally, for 30 minutes. Reduce the heat to 300º F. Continue baking, with the lid on, for one and half to two hours, or until the slime has disappeared. Bake, uncovered for the last 15 minutes of the cooking time. The time will vary according to the tenderness of the okra. Remove and cool completely before storing in freezer containers. This is excellent to serve as a side dish or to use as the base for okra gumbo. Makes 10 servings.
17 Responses to "Southern Sunny Table"
Leave a Reply