Southern Tweaks
Submitted by Christi
Do you ever tweak a recipe? I do it all the time. As a matter of fact, almost every time I read a recipe, I immediately start thinking of ways to change it! That is, of course, unless it is something I have had and loved and want to try to duplicate.
Tonight, for instance, I wanted to grill some salmon. I saw a recipe by Bobby Flay:
1 cup sherry vinegar
2 tablespoons Dijon mustard
1/4 cup honey
1 tablespoon ancho chile powder
Salt and freshly ground pepper
4 salmon fillets, 6 ounces each
In a small saucepan over high heat, reduce the vinegar to 1/4 cup. In a mixing bowl, combine the vinegar syrup with the mustard, honey, and ancho chile powder and season to taste with salt and pepper. Let rest 30 minutes.
Preheat grill. Brush the salmon with the glaze and grill 3 minutes on each side for medium.
Okay, first of all, I did not have sherry vinegar. I had lots of kinds of vinegar, but no sherry vinegar. First change was to switch that to apple cider vinegar. Secondly, I did not have ancho chili powder (remember, I live in a very small town). So, for the ancho chili powder, I substituted Emeril's Essence. It turned out very well.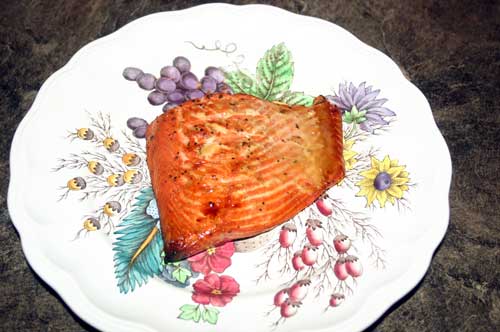 I also make a few other changes all the time and those are my additions to –
Today's Lagniappe: Christi's Substitutions
I don't really like cilantro (tastes soapy to me) – I always either leave it out or substitute parsley.
Not a big fan of curry (I think it is the tumeric) – just substitute traditional curry components without the tumeric.
I often substitute Splenda for sugar.
I like to add extra garlic to a lot of recipes.
Many recipes can be kicked up with a splash of hot sauce!
You know, sometimes you have to make do or, if you don't like a flavor, just substitute something you do like.
What do you substitute?
Tags: Southern Food
One Response to "Southern Tweaks"
Leave a Reply