Southern Rememberance
Submitted by Christi
I've posted many times about my wonderful Grandpa – Frank Dicus. How influential he has been in my life. How his positive outlook and zest for and love of  life have always been an inspiration. When I think of my Grandpa, I always see him with a smile or laughing his infectious laugh as he tells one of his wild tales about his incredible life.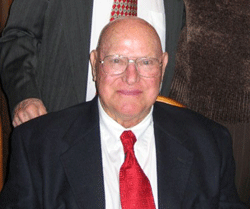 Grandpa turned 94 this year on January 24, 2010. He died yesterday on August 20th. The world will never be the same. It is, in fact, hard for me to imagine a world without him in it. I feel the same about the world without my father, (Grandpa's oldest son) who we lost 18 years ago. Some people are just larger than life and their loss just really leaves a void. I've learned, in the case of my father, that eventually, we can fill the void with the wonderful memories and lessons learned from those who have had so much influence in our lives.
I take comfort in knowing that, in fact, time does heal and soften the pain of losing those we love, especially when we have the comfort of knowing of their salvation through Jesus Christ.
Peace I leave with you, my peace I give to you: not as the world gives, give I to you. Let not your heart be troubled, neither let it be afraid. John 14:27
From Grandpa, I learned to live my life fully and not in fear, to embrace each day, to work hard and well. From Grandpa, I learned not to be pretentious, just be who you are. I've learned to embrace tough times and learn from them and become stronger. I've learned to be on time.
It is a wonderful thing to be so proud of the family you come from (on both sides!). Today, I feel like I am one of the most blessed people on earth because of the people that I have had and continue to have in my life.
Thank you God!
Rest in peace Grandpa! We love you very much and will miss you dearly.
Christi
Join Beverly at How Sweet the Sound for Pink Saturday (sunrise/sunset) and Ginger and Charlotte and Ginger at Blogger Spirit for Spiritual Sundays.
10 Responses to "Southern Rememberance"
Leave a Reply