Southern Beauty
Submitted by Christi
I've been posting about my nephew all week. He has been asked to submit an audition video to Top Shot, a series on the History Channel featuring some of the top shots in the nation! He is a wonderful guy and a great shot and has served his nation proudly!
Please check out his video. If you have a YouTube account, you can give him  a thumbs up and a comment. Either way, I invite you to meet my favorite nephew and see his video.
Bryan and his wife, Shara have some lovely china.  Their wedding china is a lovely red and white.  See the beautiful table they set?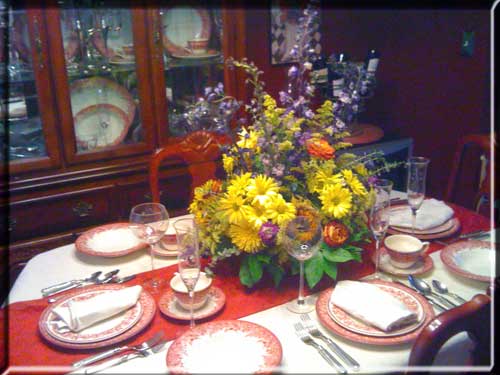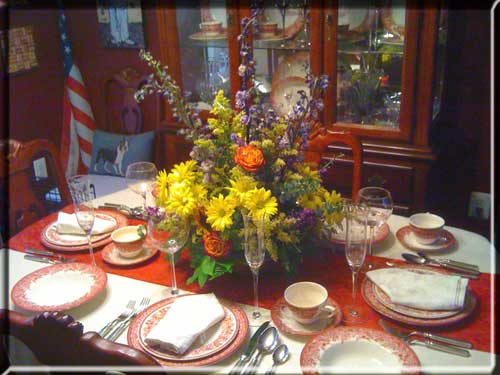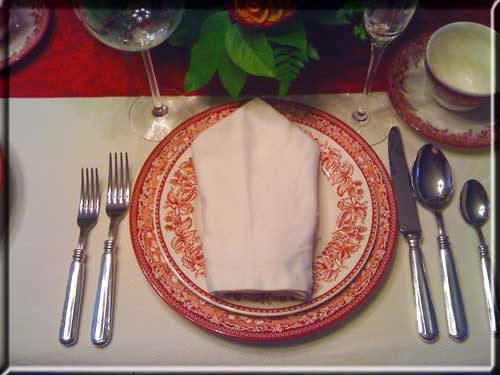 Today's Lagniappe:  Garlic Lemon Shrimp
I think Bryan and Shara would love this one!
For the citrus vinaigrette:
1/2 cup chopped fresh Italian parsley
3 tablespoons each: lemon juice, key lime juice
2 tablespoons finely chopped fresh garlic
1 1/4 cups extra-virgin olive oil
1/4 teaspoon salt
1/8 teaspoon black freshly ground pepper
For the shrimp:
1/4 cup olive oil
30 jumbo shrimp, peeled, deveined
1/2 teaspoon each: salt, black freshly ground pepper
3 lemons, halved
For the vinaigrette, mix parsley, lemon and lime juices and garlic in a large bowl. Gradually add the olive oil in a thin, steady stream, whisking constantly until all is incorporated and the mixture looks creamy. Whisk in salt and pepper. Refrigerate overnight in a covered container.
For the shrimp, heat the olive oil in a large skillet over high heat until just short of smoking, about 2 minutes. Add the shrimp in a single layer as much as possible. Sprinkle salt and pepper over the shrimp. Cook, without stirring, 1 minute. Reduce the heat to medium-high; turn shrimp. Cook until pink, about 3 minutes.
Add 1 1/2 cups of the vinaigrette to the pan. Cook until the vinaigrette just begins to bubble and the shrimp are barely done, about 45 seconds, moving the shrimp around with a spoon so the vinaigrette flows evenly around all the shrimp. Remove from heat; let the shrimp sit in the pan 30 seconds; pour the shrimp and sauce into a large shallow pasta bowl or serving platter. Garnish with lemon halves.
Makes 6 servings.
16 Responses to "Southern Beauty"
Leave a Reply