Southern Hurry
Submitted by Christi
Leaving early to go to Jonesboro, Arkansas on Tuesday. Teaching a class at ASU's Arkansas Small Business and Technology Development Center on Website Strategy and Planning. I'm really excited about teaching this class. I think it will be very helpful to small businesses.
Anyway, I'll be in a real hurry in the morning. I found this recipe for a 40 minute omelet that sounds good (if you have the filling all ready prepared!). It has only 3 ingredients (excluding filling). I'm thinking that I have some Jimmy Dean breakfast skillet stuff in the freezer that would work well with this and in a fast time frame too. Sounds like I have a plan!
I feel like I'm off to the races!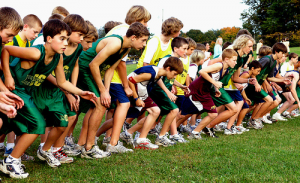 Today's Lagniappe:  40 Minute Omelet
eggs
2 tablespoons water
1 tablespoon butter — or 1 teaspoon oil
Beat together eggs and water until blended. In a 10-inch omelet pan heat butter until just hot enough to sizzle a drop of water. Pour in egg mixture.
Mixture should set immediately at edges. With an large spatula, carefully push cooked portions at edges toward center so uncooked portions can reach hot pan surface, tilting pan and moving as necessary. Continue until the egg is set and will not flow.
Fill the omelet with 1/2 cup of desired mixture. With a large spatula, fold omelet in half. Invert onto plate and serve immediately.
Balancing Beauty and Bedlam's Tasty Tuesday
Blessed with Grace's Tempt My Tummy Tuesday
The Gypsy's Corner's Three or More
One Response to "Southern Hurry"
Leave a Reply