Southern Pretty
Submitted by Christi
When I was at the Farmer's Market this week, I saw this sweet little flower arrangement.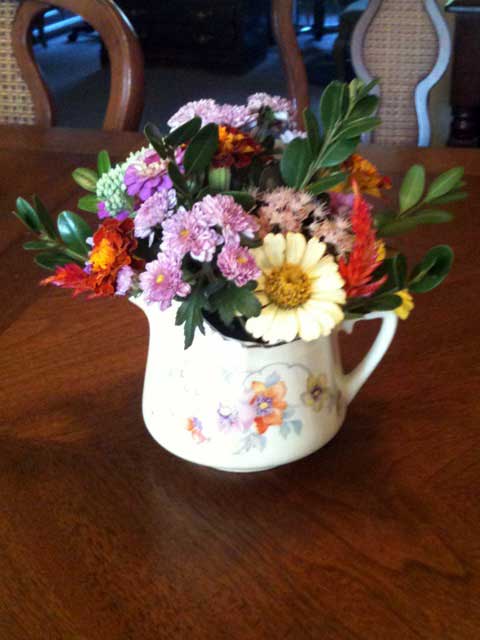 I thought the pretty creamer it was in was just adorable. It was priced right and only $4.00! I happily purchased it and the sweet little creamer and the pretty flowers have been sitting here on my desk giving me enjoyment all week long!
Here is a closeup of the creamer.
When I saw the pink flower on the side, I knew it was perfect for
Here is a better look at the flowers.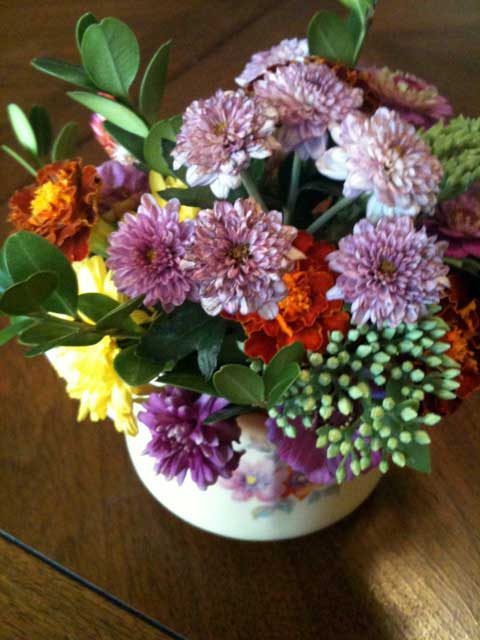 These really brightened up my week. Hope they will brighten you up too!
Today's Lagniappe:  Brunch Casserole
With the weather cooling down a bit, this would be a great day to have brunch on the porch! This recipe is from the Cajun Grocer website.
4 cups cubed day-old French bread
2 cups shredded Cheddar cheese
10 eggs, lightly beaten
1 quart milk
1 tsp dry mustard
1 tsp salt
1/4 tsp Cajun Chef Cayenne Pepper
1/4 tsp onion powder
8 to 10 slices bacon, cooked and crumbled
1/2 cup sliced mushrooms
1/2 cup chopped tomatoes
Generously butter a 9 x 13 baking dish. Arrange the bread in the baking dish and sprinkle with cheese. In a bowl, combine the eggs, milk, mustard, salt, cayenne and onion powder. Pour this mixture over the bread. Sprinkle with the bacon, mushrooms and tomatoes. Cover and chill up to 24 hours. Preheat oven to 325 degrees F. Bake uncovered for about one hour or until the mixture sets. Tent with foil if the top begins to over brown. Yield: 12 servings
One Response to "Southern Pretty"
Leave a Reply