Southern Wonder
Submitted by Christi
I can't believe that it is already Labor Day, which to me means the end of summer. We even had a bit of a cool down in the weather here for a few days so it really felt like fall was arriving. Of course, it will still be a couple of weeks before fall really arrives. However, I'm already kind of getting in the mood. You know, once football starts, even though we still have some hot days, fall is on our doorstep! It fills me with a sense of wonder.
I've already been thinking about getting out some of those fall decorations. Can you believe it? I haven't done it yet, but I was looking back at some of my pictures from last years fall decorations to kind of get some inspiration.
Happy Fall Y'all!
See what others are up to in their homes on this Met Monday with Susan.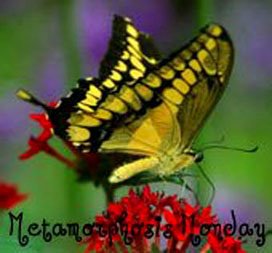 If you haven't checked out my nephews audition for the History Channel program, Top Shot, here it is:
Today's Lagniappe: Oatmeal Scotchies
One of my fall favorites
* 1 1/4 cups all-purpose flour
* 1 teaspoon baking soda
* 1/2 teaspoon salt
* 1/2 teaspoon ground cinnamon
* 1 cup (2 sticks) butter or margarine, softened
* 3/4 cup granulated sugar
* 3/4 cup packed brown sugar
* 2 large eggs
* 1 teaspoon vanilla extract or grated peel of 1 orange
* 3 cups quick or old-fashioned oats
* 1 2/3 cups (11-oz. pkg.) NESTLÉ® TOLL HOUSE® Butterscotch Flavored Morsels
Directions:
PREHEAT oven to 375° F.
COMBINE flour, baking soda, salt and cinnamon in small bowl. Beat butter, granulated sugar, brown sugar, eggs and vanilla extract in large mixer bowl. Gradually beat in flour mixture. Stir in oats and morsels. Drop by rounded tablespoon onto ungreased baking sheets.
BAKE for 7 to 8 minutes for chewy cookies or 9 to 10 minutes for crisp cookies. Cool on baking sheets for 2 minutes; remove to wire racks to cool completely.
PAN COOKIE VARIATION:
Grease 15 x 10-inch jelly-roll pan. Prepare dough as above. Spread into prepared pan. Bake for 18 to 22 minutes or until light brown. Cool completely in pan on wire rack. Makes 4 dozen bars.
Tags: Southern Seasons
6 Responses to "Southern Wonder"
Leave a Reply