Southern Ham
Submitted by Christi
One of my favorite holiday foods is a delicious ham. Ham is really good for most any holiday, from Christmas to the 4th of July, just change up the sides and you have yourself a celebration!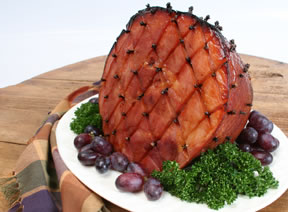 The pretty pink color of the beautifully baked ham makes a great centerpiece for any table or buffet. So, how would you go about cooking this perfect ham? I like this recipe that uses orange marmalade.
A 6 to 7 pound cooked ham with the bone in
1/2 cup of orange marmalade
2 tablespoons of honey mustard
Whole cloves
*Preheat your oven to 325 degrees.
*Line a 13 by 9 inch pan with foil and put in a small rack.
*Cut away the tough rind on the ham leaving at least 1/4 inch of the fat  (This helps keep the meat from drying out as it cooks).
*Score the top and the sides in a diamond pattern (Alton Brown suggest using a utility knife to do this job. A paring knife will work as well.)
*Add a clove in the center area of each diamond
*Place ham in the dish with the diamond cut side up
*Stir together the marmalade and honey mustard in a small bowel
*Brush the ham with 1/2 of the glaze
*Bake for 1 hour and then brush with the rest of the glazeCook for 30 minutes longer or until a meat thermometer registers 140 degrees
*Place ham on a cutting board or serving platter and allow it to rest 20 minutes before carving
I'll have to say, the marmalade treatment really makes me think of Winter and Spring holidays more than the Summer-y ones. What is your favorite way to bake a ham?
Be sure to join me on Monday to join a great give-away for the holidays!
Happy Pink Saturday!
2 Responses to "Southern Ham"
Leave a Reply