Southern Stir Ins
Submitted by Christi
The give-away is still going on. Holiday baking and cooking is just so much fun.
The folks at Cool Whip and kraft foods have pitched in too make it that much more fun this year!
They sent me this wonderful basket of goodies to help me get started on my holiday baking.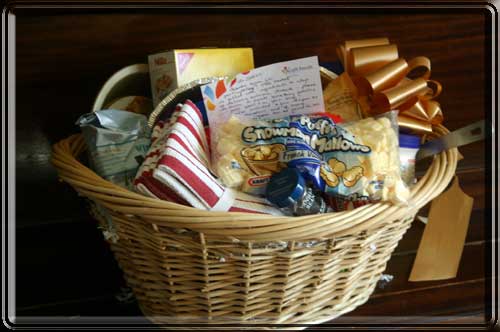 What is even more fun is that they will send one of you a basket of goodies too! Just leave a comment here for a chance to win. Post a link to the give-away on your Facebook page and then leave me a comment telling me about your link and you have another chance to win. You can enter every day between now and Wednesday, November 18th. I'll announce the winner on Thursday morning! Good luck to everyone!!!!
Please note:  Kraft Foods is providing the prizes for this program at no cost to me. This program is not administered or sponsored by Kraft Foods or its affiliates, but solely by A Southern Life.
Okay, I've already made that delicious double layer pumpkin pie (see yesterday's post). Now for some topping ideas.
Today's Lagniappe:  Topping Stir-Ins
From Cool Whip, stir ins for a pumpkin pie.
You need:
One prepared pie
1 tub (8 oz.) Cool Whip
Your favorite stir-ins
Some stir-ins for pumpkin pie:
1 tsp pumpkin spice
1-1/2 tsp. maple
1 tsp. nutmeg
1 tsp. cinnamon
Choose your favorite or combine some of them!
Balancing Beauty and Bedlam's Tasty Tuesday
Blessed with Grace's Tempt My Tummy Tuesday
The Gypsy's Corner's Three or More
11 Responses to "Southern Stir Ins"
Leave a Reply