Thank you to everyone for your kind wishes while we were under the weather around here. I appreciate being missed!
Today, I want to show you a Christmas table I did back when I first started blogging. I had not thought to post the pictures when I took them. I just liked the table and took pictures because I wanted to.
Eventually, I discovered all this incredible tablescaping going on out in blogland and jumped in to join fun! Thanks to Susan for hosting!
Unfortunately, at the time I didn't take but a couple of pictures. Now, I know to get lots more!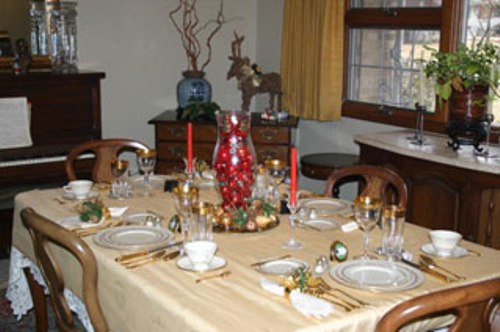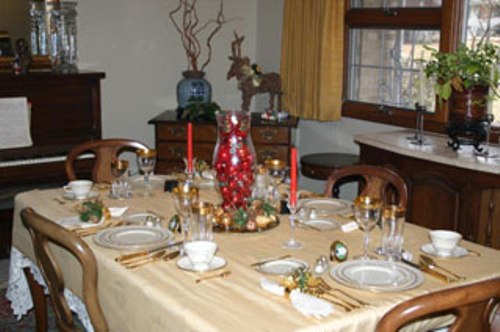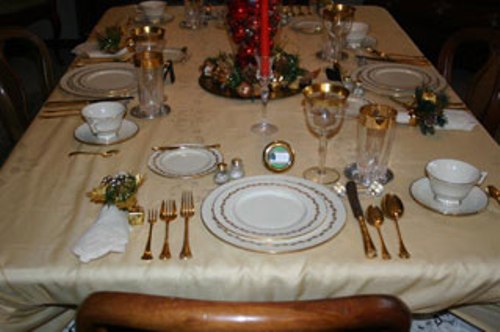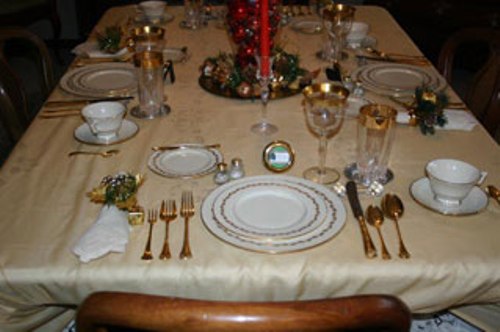 The china pattern is Golden Wreath by Lenox. Sorry the pics are not close enough to show a lot of detail, but if you look closely, you can see that I used little miniature frames for placecards. The centerpiece is just a hurricane that I filled with red ornaments and placed on a brass tray and surrounded with gold ornaments and greenery. I love red and  gold together.
Now, on to the give away! This wonderful treat is provided by Kountry Kupboard out of Jonesboro, Arkansas. Kountry Kupboard is a great bulk and specialty food item store. They have lots of hard to find baking items as well as just some really tasty stuff!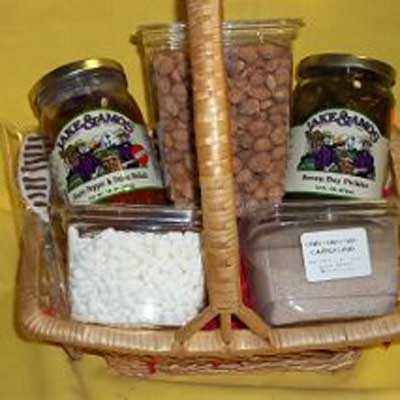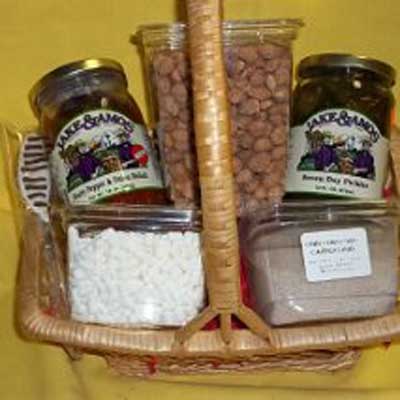 The contents of this basket are:
Jake & Amos Zesty Pepper & Onion Relish – this makes a great dip and the recipe is on their website
Jake & Amos Seven Day  Pickles – they say this is one of their customers favorite items
Cinn/Van/Nut Cappuccino – a yummy drink to enjoy by the fire
White Chocolate Spoon – something to make your favorite hot beverage taste even better
Micro Marshmallows – the better to melt in your hot chocolate by
Tabasco Praline Peanuts – You have to taste them to believe them
To win this fabulous gift basket you have several ways to add to your chances!
Leave a comment here.
Go to the Kountry Kupboard website (http://shopthekupboard.com), look around and then come back here and leave a comment telling me what product at the Kountry Kupboard you liked best.
Become a fan of the Kountry Kupboard Facebook page and then come back and leave a comment letting me know that you have done that.
Become a fan of A Southern Life on Facebook and then leave me a comment letting me know. If you are already a fan, just go ahead and let me know that you are in the comments.
Okay, so you can have up to 4 different chances to win! How fabulous is that?
The winner will be announced here at A Southern Life on the morning of Saturday, December 18th. That this coming Saturday! Good luck!
Today's Lagniappe:  Chocolate Rum Cake
This just screams, "eat me for the holidays!" If you want to leave out the rum, you can just substitute a couple of teaspoons of rum flavoring in place of the rum.
1 (18.25 ounce) package chocolate cake mix
1 (3.9 ounce) package instant chocolate pudding mix
4 eggs
1/2 cup water
1/2 cup vegetable oil
1/2 cup dark rum (or 2 teaspoons rum flavoring)
1/2 cup chopped walnuts
1/2 cup butter
1 cup white sugar
1/4 cup white rum (or 2 teaspoons rum flavoring)
1/4 cup water (if using rum flavoring increase water to 1/2 cup)
Preheat oven to 325 degrees F . Grease one 10 inch Bundt pan. Place chopped nuts in the bottom of the Bundt pan.
With an electric mixer beat cake mix, pudding mix, eggs, oil, 1/2 cup of the water, and 1/2 cup of the rum on high speed for 2 minutes. Pour batter into prepared Bundt pan over the top of the chopped nuts.
Bake at 325 degrees F for 50 to 60 minutes.
To Make Rum Glaze: In a saucepan combine the butter or margarine, sugar, 1/4 cup of the rum, and 1/4 cup of the water. Bring mixture to a boil and cook for 2 minutes.
Pour some of the glaze on the warm cake while it is still in the pan. Do this slowly so in can be absorbed into the cake.
Turn the cake out on to a cake plate. Prick the cake several times with a fork. Drizzle the rest of the glaze onto the cake and let it soak into the cake.
Enjoy!
What room in your house is your favorite to decorate? Check out Joan's post at: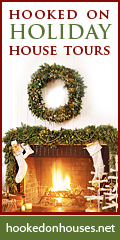 Hope everyone is having a great week!