Southern Fireside
Submitted by Christi
It is still pretty cool here today. Glad to have a fire in the fireplace. Definitely time to stay in and have a cozy supper by the fire for today's edition of Tablescape Thursday.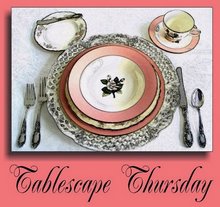 I started with a small table in front of the fire. So glad I got a red tablecloth. It has had so many great uses.
I added my gold, fluted chargers.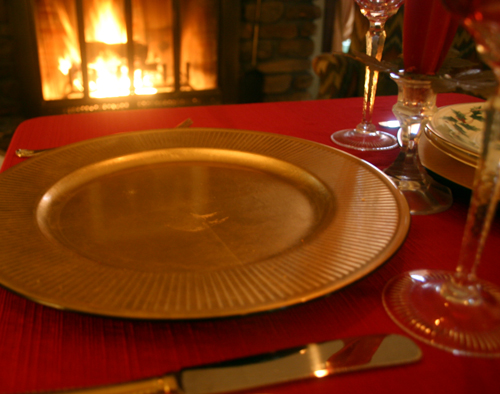 Then, I added my Mikasa Ribbon and Holly china.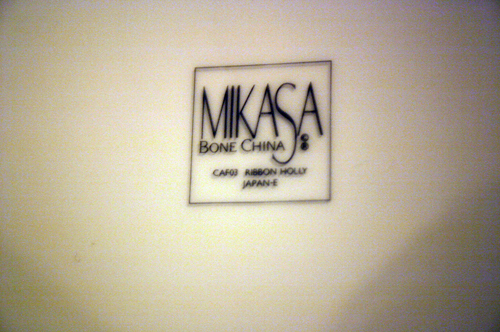 Etched glass goblets with long stems in red.
Gold flatware and a candle complete the scene.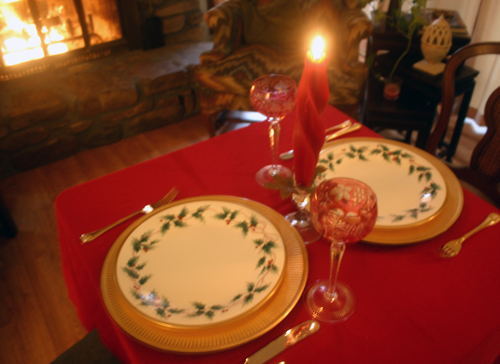 A cozy fireside supper on a cold evening.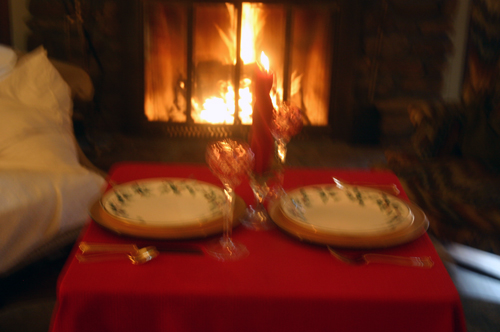 But it is nice and warm in here.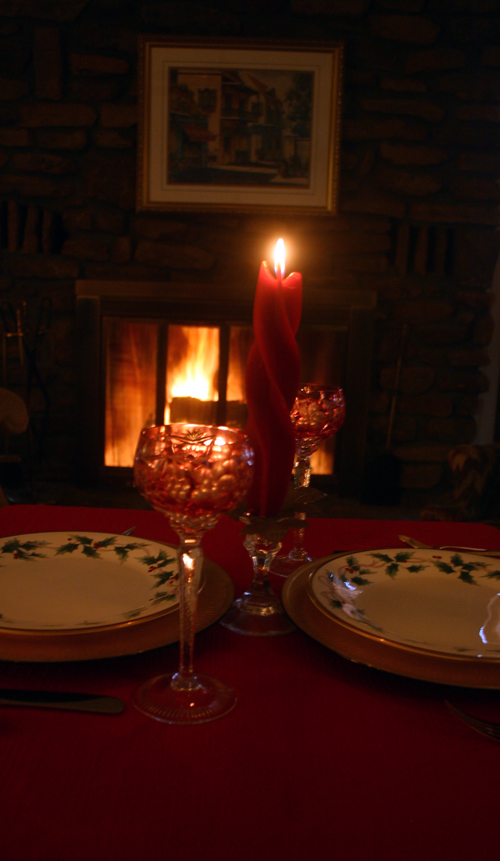 The decorating blitz around here is coming up this weekend. Check back for new photos and ideas!
Today's Lagniappe: Caramelized Onion Potato Gratin
Something warm and comforting to have on a cool day from Southern Living.
* 1 1/4  cups  soft, fresh breadcrumbs
* 1/4  cup  chopped fresh parsley
* 3  tablespoons  grated Parmesan cheese
* 2  teaspoons  lemon zest
* 3  tablespoons  butter
* 2  large sweet onions, halved and thinly sliced
* 3  garlic cloves, minced
* 3  tablespoons  all-purpose flour
* 3 1/2  cups  milk
* 1 3/4  teaspoons  salt
* 1 1/2  teaspoons  dried Italian seasoning
* 1/8  teaspoon  ground red pepper
* 1  (8-oz.) package shredded Italian six-cheese blend
* 3  pounds  baking potatoes, peeled and thinly sliced
Preparation
1. Preheat oven to 375°. Combine first 4 ingredients in a small bowl.
2. Melt butter in a Dutch oven over medium-high heat; add onion, and cook, stirring often, 15 minutes or until onions are caramel colored; add garlic, and cook 1 minute.
3. Stir in flour, and cook, stirring constantly, 1 minute. Gradually whisk in milk and next 3 ingredients. Cook, whisking often, 8 to 9 minutes or until mixture thickens. Remove from heat; whisk in cheese until melted and smooth.
4. Layer half of potatoes in a lightly greased 13- x 9-inch baking dish; pour 2 cups sauce over potatoes in dish. Repeat layers once.
5. Bake, uncovered, at 375° for 1 hour and 10 minutes or until golden brown and potatoes are fork tender, topping with breadcrumb mixture during last 15 minutes of baking. Remove from oven, and let stand 10 minutes.
Lightened Potato-Caramelized Onion Gratin: Substitute 1% low-fat milk for whole milk, decrease butter to 1 1/2 Tbsp., and increase flour to 1/4 cup. Proceed with recipe as directed.
13 Responses to "Southern Fireside"
Leave a Reply