Southern Decadence on a Dime
Submitted by Christi
Sometimes, it is nice to go out to eat at a restaurant. Saves having to cook, having to dishes and having to clean up. However, it rarely saves you money.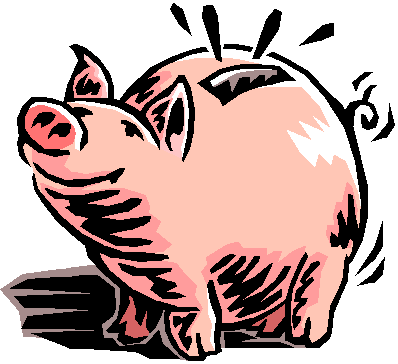 If I am going out to eat, I want to eat somewhere that has a specialty that I know without a doubt is going to be really, really good. Otherwise, I can be creative and cook at home. I know what ingredients are used and how they are used and with some simple planning and preparation, I can make even really complex recipes in my own kitchen.
There are a few things (3 or more) you can do to make having a meal at home as good as going out to a really nice restaurant.
I think the best tip I have learned for preparing great food with recipes that range from simple to complex is the concept of "mis en place" or having everything in place before you start cooking. That means if a recipe calls for chopped onions or minced garlic, I have them chopped and minced before I start. It helps to do as much ahead as possible.
The other thing I have learned (from Mama) is how to have everything ready to serve at the same time. To do this, you start with when you want to serve your meal and plan backwards. How much time will each course take? Whatever takes the longest, start first and then work forward from there.
One last thing, when you are cooking – clean as you go – as much as you can. If you have family members who can help rinse pots and pans and put things away as you are cooking (or help with the cooking) all the better. One of the best things about eating out is that you don't have to clean up. If you clean as you go, at the end of the meal the cleaning is minimal. Get everyone to pitch in as much as you can.
Apart from the food, of course, there is the atmosphere. What good is it to have nice dishes if you never use them, after all? Get out the nice dishes and silverware and put them to good use. You can't take it with you so you may as well use it. By the way, it is cheaper to use your own dishes than to continually use paper plates!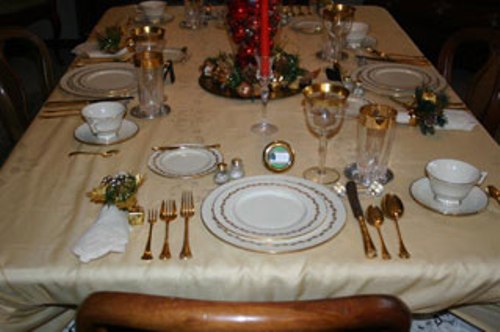 Setting the table is a great opportunity to teach the kids basic place setting etiquette. As a child, we always took turns setting the table, and I learned early on the proper place for the utensils, plates, glasses, napkins, etc. My mother had us set the table for every evening meal and we sat down as a family to dine. Wonderful memories were made. I don't have children, but even for just my husband and me, it is still nice to have a proper place setting. It is just a little thing that brings beauty and order in an otherwise chaotic world.
People are having to cut down in this difficult economic time but that doesn't mean we can't still feel pampered at home. With these tips it can be really easy to enjoy nice meals at home and save some money.
Bon Apatite, Y'all!
Today's Lagniappe:  Apple Cinnamon Pork Tenderloin
This would be a great recipe to enjoy "restaurant style."
to 1 1/2 pounds pork tenderloin
2 tablespoons cornstarch
1 teaspoon ground cinnamon
2 tablespoons brown sugar, packed
2 cooking apples, peeled, cored and sliced
2 tablespoons dried cranberries or raisins
Preheat the oven to 400°. Place the pork tenderloin in a roasting pan or casserole dish. Combine the remaining ingredients in a bowl and stir. Spoon the apple mixture around the pork tenderloin. Cover and bake 30 minutes. Remove the lid and spoon the apple mixture over the tenderloin. Return to the oven and bake 15 to 20 minutes longer, or until pork tenderloin is browned and cooked through. A meat thermometer in the center should register at least 150° to 160°.
Serves 4.
Balancing Beauty and Bedlam's Tasty Tuesday
Blessed with Grace's Tempt My Tummy Tuesday
The Gypsy's Corner's Three or More
4 Responses to "Southern Decadence on a Dime"
Leave a Reply