Southern Pink Sky
Submitted by Christi
A couple of days ago, as the day was ending, I looked up from my desk and noticed that everything outside kind of had a pinkish-golden hue. How beautiful it was!
Today, I want to share those pictures with you, as well as introduce you to a new blog/website. The site is called "Great is Thy Faithfulness" and it is written by my bonus father, Dr. Chester Ward. His latest article is titled, "Priorities" and it is a great message that I think will bless you.
Chester has been a pastor, director of missions and has been in ministry for many years. Last year, Chester retired from full time ministry as director of missions and is now entering a new phase of ministry. He is now available to preach as a supply or as an interim. He has written a book called "Basic Bible Doctrine" that is a great tool and is also available to lead a study on that book as well as other Bible studies.
Hope you will give him a visit today at Great is Thy Faithfulness and leave him a note of encouragement in this new phase of ministry.
Looking at the sky, I am reminded of how Great is Thy Faithfulness!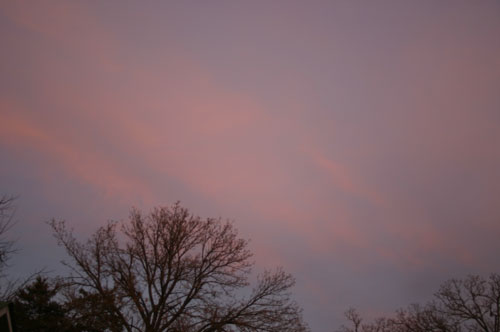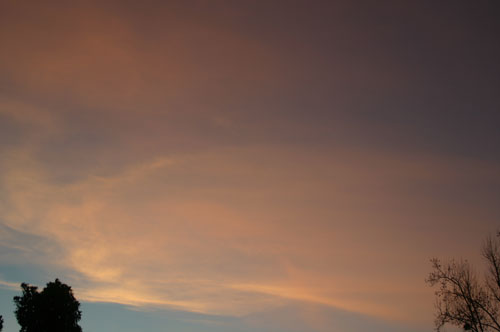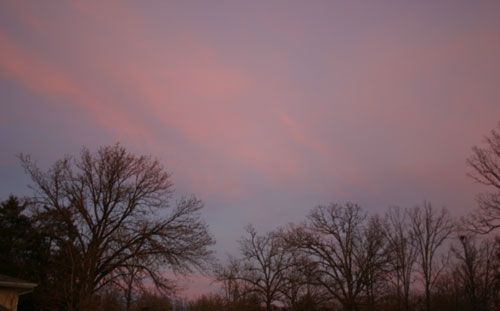 Hope everyone has a wonderful and blessed weekend!
Today, I am joining: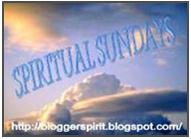 And, finally,
Today's Lagniappe:  Sausage and Cheese Frittata
Something warm and yummy for a cold winter morning.
1  (12-oz.) package spicy ground pork sausage (you can use mild if you prefer)
8  large eggs
1/3  cup  milk
1/2  teaspoon  pepper
1/4  teaspoon  salt
1  tablespoon  butter
1  cup  (4 oz.) shredded Cheddar cheese
1. Preheat oven to 350°. Brown sausage in a 10-inch ovenproof nonstick skillet over medium-high heat 10 minutes or until meat crumbles and is no longer pink; drain and transfer to a bowl. Wipe skillet clean.
2. Whisk together eggs and next 3 ingredients until well blended.
3. Melt butter in skillet over medium heat; remove from heat, and pour half of egg mixture into skillet. Sprinkle with cooked sausage and cheese. Top with remaining egg mixture.
4. Bake at 350° for 23 to 25 minutes or until set.
6 Responses to "Southern Pink Sky"
Leave a Reply