Southern Snow Day
Submitted by Christi
It started snowing here this morning and is still steadily snowing at mid-day here in my neck of the woods in Arkansas. Got some pics to share with you as well as a recipe!
I love asparagus. Of course, we usually cut off the top part and throw the woody part away. I've always seen cooking channel people do this and then say to save the woody part for another use. Well, while I've always thought I should do that, I never had – until today. I actually just served the tips last night for supper (roasted with lemon, garlic and olive oil) and saved the rest to make some soup. Turned out to be a great lunch for a snowy day!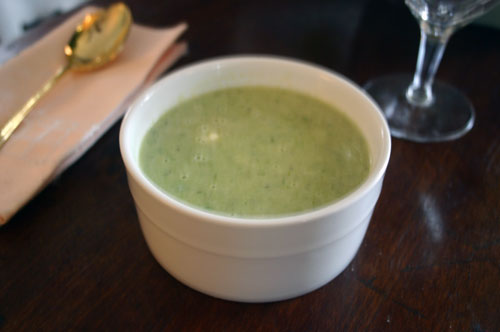 Set on the coffee table in front of the fire and I even had a little mini-tablescape!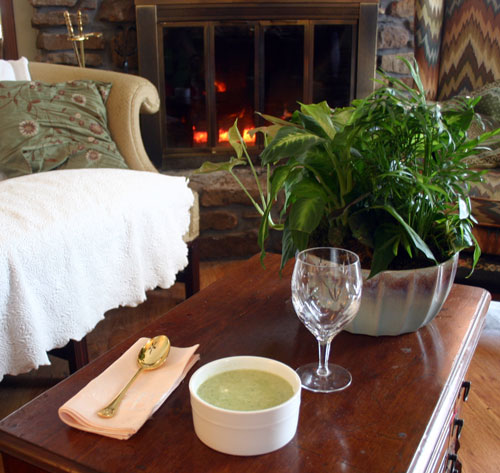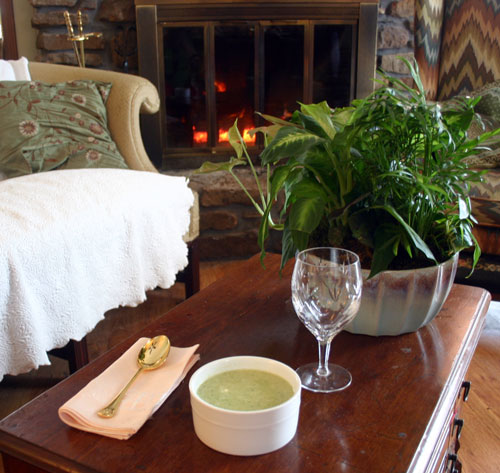 I've also been feeding the birds. Watching them is not only entertaining for me, it also keeps Calli-cat occupied. I've got covered bird feeders in the front. My bird feeder in the back is unprotected, so it is covered with snow. I made a makeshift bird feeder on the back porch and then scattered a little seed on the porch. The birds have really enjoyed it.
I have had cardinals, bluejays, wrens, chickadees, tufted titmouse, robins and red finches, mourning doves, a couple of woodpeckers and, of course, squirrels. What fun it has been to watch them. I've been trying to get pictures. Of course, the beautiful red cardinal is just as pretty as a picture but always seems to fly off just as I get the camera focused on him!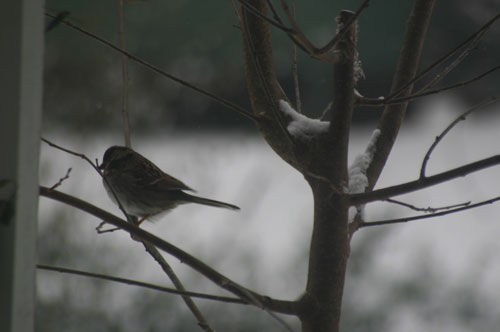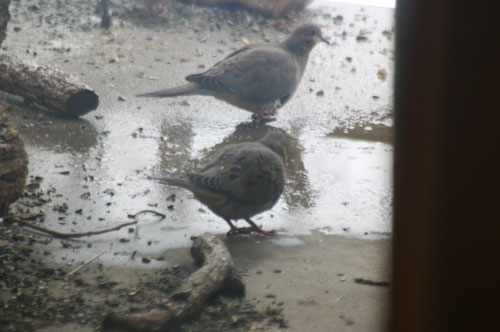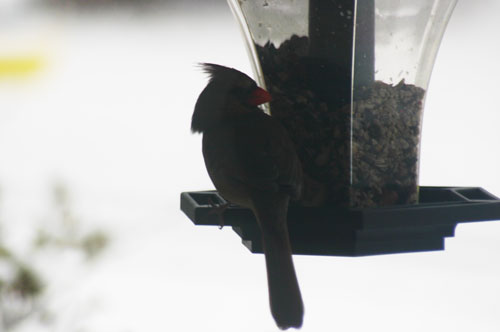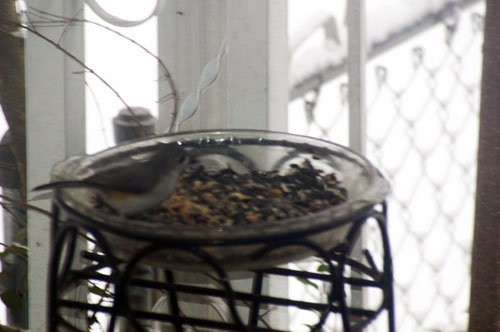 As I am typing this, a big Bluejay is feeding as a robin waits on this fence for his turn. Don't you just love snow days!
Today's Lagniappe: Asparagus Soup
This recipe makes 8 – 10 servings. I quartered the recipe (I didn't even need half) and it turned out great! I also skipped the step for the tips of the asparagus since we had them the night before 🙂 This is based on Emeril Lagasse's recipe. YUM!
* 3 pounds fresh asparagus, rinsed
* 8 cups chicken stock
* 4 tablespoons unsalted butter
* 1 cup chopped onion
* 1 tablespoon minced garlic
* 1/2 teaspoon salt
* 1/4 teaspoon ground white pepper
* 1/2 cup heavy cream
* 1/4 cup finely grated Parmesan, garnish
Trim the attractive top tips from the asparagus, about 1 to 1 1/2 inches in length. Cut the woody stem ends from each spear and reserve. Cut the remaining tender stalks into 1/2-inch pieces.
In a medium pot, bring the stock to a boil. Add the tough woody stems, lower the heat and simmer to infuse with asparagus flavor, 20 to 30 minutes. Remove with a slotted spoon and discard, reserving the stock.
Add the decorative tips to the stock and blanch until tender, 1 to 1 1/2 minutes. Remove with a strainer and refresh in an ice water bath. Drain on paper towels and reserve for the garnish. Reserve the stock.
In a medium stockpot, melt the butter over medium-high heat. When foamy, add the onions and cook until tender, about 3 minutes. Add the garlic and cook until fragrant, about 1 minute. Add the chopped asparagus stalks, salt, and pepper, and cook, stirring, for 2 minutes. Add the reserved broth and simmer until the asparagus are very tender, 15 to 20 minutes. Remove from the heat.
With a hand-immersion blender or in batches in a food processor, puree the soup until smooth. Adjust the seasoning, to taste. If serving right away, return to medium heat and add the cream and reserved asparagus tips. Cook, stirring, until the soup is warmed through, about 3 minutes.
Alternatively, if serving the soup later, do not add the cream and let cool at room temperature (or in an ice water bath). Cover and refrigerate. Before serving, add the cream and asparagus tips, and warm the soup gently over medium heat, stirring occasionally.
9 Responses to "Southern Snow Day"
Leave a Reply