Southern Warm Up
Submitted by Christi
While the snow is over (for now), it is still a bit chilly here. Time for some comfort food! Onion soup is yummy and the version I'm sharing today is Creole Onion Soup and the recipe is from Brennan's New Orleans.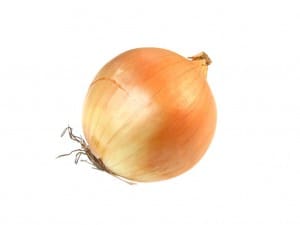 I love the traditional French onion soup but honestly, the mozzarella is just a tad difficult to eat as is the toasted bread crouton you have to fight through to get to the soup.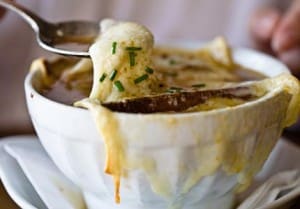 That is why I LOVE this Creole version of onion soup. It has yummy Parmesan cheese incorporated that will definitely not leave a string of cheese between the bowl and your mouth as you transfer the soup with your spoon!
Before we get to the recipe, I've got to tell you a story that explains another reason I love this soup. One beautiful Autumn when we were visiting New Orleans, yours truly was a bit under the weather. When I finally got to a doctor, it turns out I had a sinus infection. Grrrrrr, that can really put a damper on an otherwise fun trip.
What got me through was this wonderful Creole Onion Soup from Brennan's. It was so soothing and warm and yummy.  Pretty powerful soup! Had to get the cookbook with that recipe on the double!
Oh, and one more thing, this soup doesn't take HOURS to make. It is served with small croutons made with wonderful day old french bread.
Without further ado:
Today's Lagniappe: Brennan's Creole Onion Soup
If you don't need 8 servings, you can easily halve this recipe.
(8 servings)
1/2 c. (1 stick) butter
1 large onion
1/2 c. all-purpose flour
2 quarts beef stock
2 T. Worcestershire sauce
1 t. white pepper
Salt to taste
2 tsp. eggshade or yellow food coloring (optional and I'm not sure why this is needed – CW)
1/4 c. freshly grated Parmesan cheese
Melt the butter in a large pot, and sauté the onion until tender, about 5 minutes. Blend the flour and cook the mixture over medium heat another 5 minutes, stirring frequently. Add the beef stock, Worcestershire sauce, and pepper. Adjust the seasoning with salt to taste. If desired, add the food coloring. Reduce the heat and simmer until thickened, about 15 minutes. Sprinkle with Parmesan, then serve.
5 Responses to "Southern Warm Up"
Leave a Reply