One week to Mardi Gras! Can't wait. We love gumbo around here, however on a weeknight, it is a bit much to get it all together. So, we take a shortcut!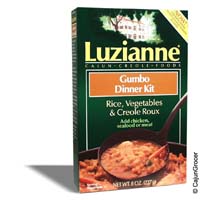 With a little help this gumbo in a box from Luzianne this can be a really tasty dinner! We start with some andouille sausage then follow the directions from there with a few minor changes.
When adding the mix, we omit the cayenne but add additional garlic powder, some Cajun seasoning (like Emeril's Essense or Slap Yo Mama), and some hot sauce (I add Chrystals and then my husband adds additional Tabasco when just before he eats). We also cook it longer than it calls for by about 10 minutes so it gets a little thicker. About 5 minutes until it is done, we add Gulf Shrimp.
You can add other seafood like crab meat and crawfish at this point. Up here in our neck or the woods it is hard to find these kinds of products that are not from Asia. We occasionally special order these products but remember, don't be bamboozled!
Anyway, we have tried different mixes and this tastes the closest to the way I make it homemade and it is quick and easy. Gotta love that!
Did you know that Luzianne also makes Blue Plate Mayonnaise?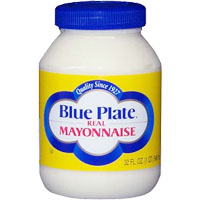 My friend Christy Keirn over at Miles to Go is from Mississippi and she swears Blue Plate Mayonnaise is her secret to making the best pimiento cheese. Check out her blog for her recipe.
Get in the Mardi Gras mood and make some of gumbo this week. With this easy shortcut, there is no excuse not to 😉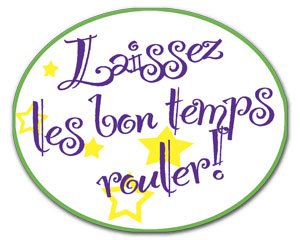 Today's Lagniappe:  Salade De Tomatoes Avec Sauce Re
If you're going to get some Blue Plate mayonnaise, you may as well have another recipe to use it in. This is from the Luzianne website.
Makes approximately 1 ¼ cups
1 cup Blue Plate Mayonnaise
1 tablespoon vinegar
2 tablespoons minced celery
1 tablespoon mustard
2 tablespoons minced scallions
½ tablespoon dried tarragon leaves
In a small bowl stir all ingredients until smooth. Keep refrigerated. Serve over sliced tomato arranged on a bed of lettuce leaves.
Balancing Beauty and Bedlam's Tasty Tuesday
Blessed with Grace's Tempt My Tummy Tuesday