Spring Porch Cleaning
Submitted by Christi
The weather was just beautiful here today. It looks like it is time to clean off the back porch and get it ready for Spring. After all, Spring will be here soon. Check out the countdown calendar!
We like to grill all year round. My husband moves the grill up on the porch and he grills in all kinds of weather. He also tends to make things a bit messy.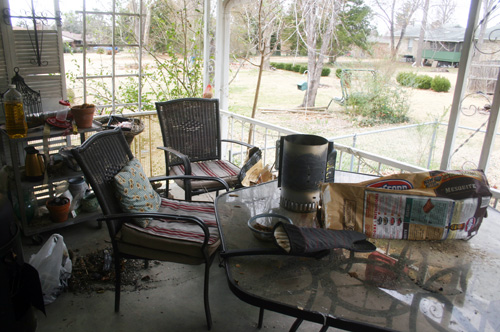 In addition to his mess, the birds have scattered seed all over the place as well. Oh well, the sunshine and pretty weather made cleaning it all up a pleasant job. Got out the broom, a trash bag and added some elbow grease!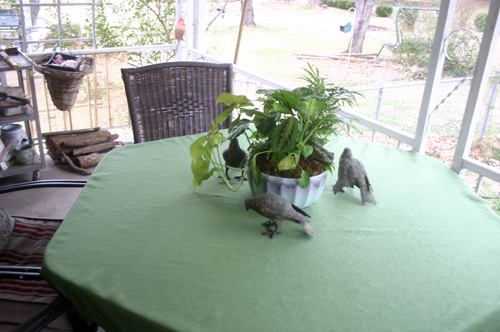 Now, that is much better. Looking forward to bringing out some of my plants that have spent the winter in the house and adding some pretty flowers. Now, when we have the pretty days, I can go ahead and sit out on the porch and enjoy!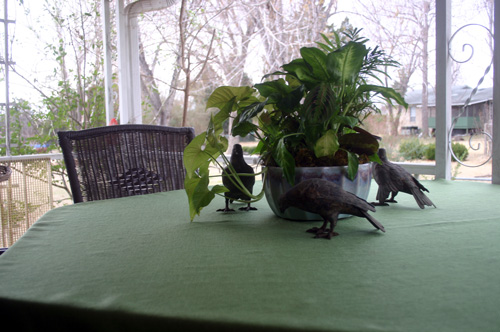 Even the doves that have spent the winter inside got to get out. I'm sure we'll have some more cold weather before it is all over. As my mama says, "We'll still have our Easter snap." In that case, I'll just bring the plant in and the birds can hold down the fort until the weather warms back up.
I'm thinking it is time to change the cushions in the chairs and do a little updating. I'll let you know how things progress. Hope everyone else is having fun getting ready for Spring. Happy Monday! Have a great week!
Check out what metamorphosis are going on at:
Today's Lagniappe: Lime Jello Fluff
Something easy and green this week for St. Patrick's Day!
(Lagniappe = a little something extra)
* 1 (3 ounce.) pkg. lime Jello
* 1 (1 lb.) carton cottage cheese
* 1 can (lg.) crushed pineapple
* 1 (8 ounce.) carton Cold Whip
1. Mix first 3 ingredients in large bowl. Stir in Cold Whip (thawed). May be served immediately or possibly stored for 2 to 3 days.
2 Responses to "Spring Porch Cleaning"
Leave a Reply