My, what a labor of love a garden is. Been working on getting my garden in this weekend. It is a bit late, but with soooooo much rain, I had to wait for a dry weekend. It turned out that this weekend was perfect. Cool temperatures with overcast skies but NO RAIN!
Before I go on with this post, I want to pause and remember all of the people along the Mississippi River who are dealing with the aftermath of the massive rains, the floods. When I see that so many people are losing their homes, that so many farmers are losing their crops, my heart just breaks. I have been so encouraged by the spirit of the people in the areas that are going to flood. They are truly an inspiration. God bless them and please keep them in your prayers.
I am blessed to live in a higher area in a town that is surrounded by lakes and rivers. We have had record amount of rain here which has kept me from putting in my garden earlier. However, this weekend was the perfect time!
The best way to garden in my area is raised gardening. I built my raised garden out of my old herb planter.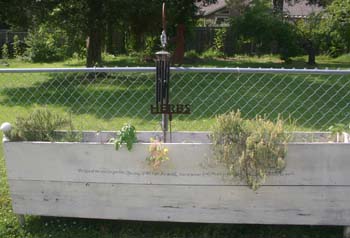 I took the planter apart to create my raised bed.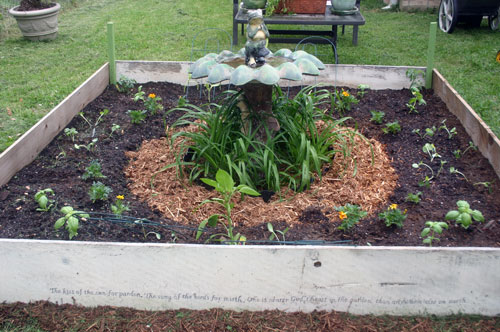 The piece of the planter that faces me on the back porch is the one with my favorite garden verse –
A kiss of the sun for pardon.
The song of the birds for mirth.
One is nearer God's heart in the garden,
Than anywhere else on earth.
Now for some more pictures: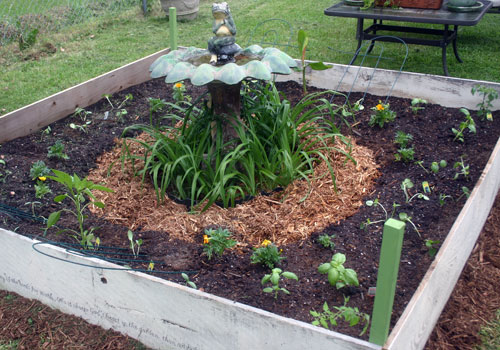 It is a small garden but I am looking forward to the fruits of my labor (which didn't feel small). I have  been gardening for some years now. It seems that for every garden I put in, at some point, I think, "What in the world do you think you are doing?" It does take a lot of effort but it truly does feed the soul.
She who plants a garden is very happy indeed!
I took a small planter and made a garden. The metamorphosis fed my soul. What other metamorphosis' are going on in blogland? Check them out!