Chargrilled Oysters!
Submitted by Christi
Oysters – an interesting little mollusk. People eat them raw, fried and yes, chargrilled (or charbroiled). I have often wondered, who was the first person to open an oyster and think, "Hmmmm, wonder what this tastes like?" Traditionally, oysters are said to be best during months that end with an "R." With refrigeration, oysters are safe to eat any month but, apparently, colder months tend to produce better quality oysters than the warm months when they are spawning. Who knew?
We recently stopped into the iconic restaurant, Casamentos on Magazine street here in New Orleans and had some yummy oysters that were charbroiled. They were juicy, buttery and topped with cheese. How bad can that be?
I decided that this was probably something that I could make pretty easily and, sure enough, they were easy and delicious!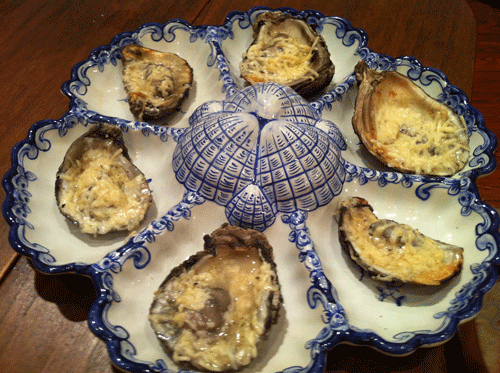 Served on this beautiful oyster plate, they were pretty to look at as well. I mean really, oysters can look a bit off-putting, don't you think? Many of the recipes I looked at called for adding just butter and then topping with a cheese blend. Others added a bit more flavor with anything from garlic, to shallots, and even Worchestershire sauce. I tend to like things pretty kicked up so I added all of those and a little bit more. Here is how I did it:
Today's Lagniappe: Chargrilled Oysters
Prepare your grill for grilling with charcoal. While the charcoal is getting hot, shuck one dozen oysters. Shucking the oysters was the hardest part of this recipe. Get a good oyster knife and be careful. There are lots of tutorials for how to shuck oysters on the web. Try not to lose too much of the oyster juice as you are shucking. I relegated this job to my husband while I prepared the butter sauce.
Melt 2 sticks of butter and add a couple of cloves of crushed garlic (or to taste), a tablespoon of finely chopped shallot, a dash of Worchestershire sauce, a bit of salt and pepper and a splash of hot sauce (I used Crystal hot sauce). Whisk these all together.
When the coals are white hot, place the oysters, shell side down, directly on the grate. Let them cook until the juice just starts to bubble a bit.
Pour the melted butter mixture over each oyster (be careful here because when it spills over the fire will flare). Sprinkle a bit of Parmesan, Romano and Asiago cheese blend on each oyster and grill until the cheese is melted. The total cooking time for us was about 5 minutes.
Remove the oysters from the grill and serve them on your favorite oyster plate or a platter and serve with hot French bread to sop up all that oystery, buttery goodness.
Bon Apetite, Y'all!
Want to find lots of great recipes? Check out Foodie Friday at http://designsbygollum.blogspot.com/.
Leave a Reply