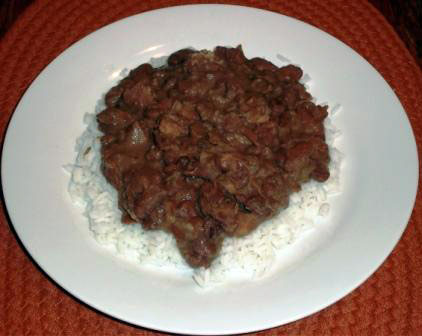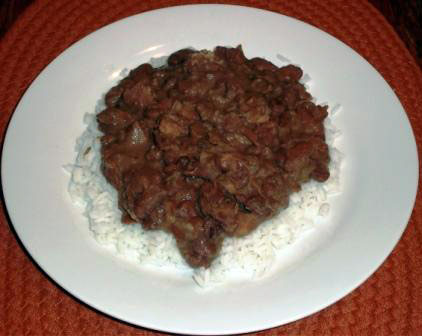 It's Monday and I was in the mood for red beans and rice.  Just like my grandmother used to do, I put the beans on early so they could cook themselves while I worked.  Except I was sitting in front of the computer all day rather than doing the laundry.
Red beans and rice is what the locals eat in New Orleans, especially on Monday, and there are as many recipes as there are cooks.  Here is the one that I use – the seasonings are what make this one so delicious.    Whatever recipe you choose, the key to good red beans is long, slow cooking in order to develop a creamy texture with thick gravy.  As an old cook once shared with me, you need to "cook to goodness".
RED BEANS AND RICE
2 lbs. dried kidney beans, soaked overnight in cold water
2 cups chopped onion
½ cup sliced green onion
½ cup chopped green pepper
1 1/3 T. finely minced garlic
2 T. chopped fresh parsley
1 lb. or more ham or pork *
1T. salt
½ t. black pepper
¼ t. cayenne
2 bay leaves, quartered
½ t. dried thyme
2 qt. cold water, approximately
Drain the beans, and put them along with all the other ingredients in a heavy 8-10 quart pot, adding just enough water to cover.  Bring to a boil, then reduce heat and simmer on low for 2 ½ to 3 hours, or until beans are tender and a natural gravy has formed.  Stir frequently to make sure that the mixture does not scorch.  Add a cup or so of water toward the end if the beans seem too dry.
Ladle about 1½ cups of beans over 2/3 cup of boiled rice.  Makes 8 servings, and freezes well.
*My favorite meat to use is a ham bone with meat still attached.  The bone marrow will add to the creamy texture.  You can also use pickled pork, salt pork, or leftover ham.  Do not use country or smoked ham – it's too salty.