Meanwhile . . . Back at the Ranch
Submitted by Cindy
Both my husband's parents came from ranching families, and I realized early on that cattle were in his genes.  They have passed on, but Ed inherited the ranch that has been in his father's family since 1877.  That's how a city girl from New Orleans happens to be running cattle long distance in Atascosa County, Texas.  We raise Herefords, the brown ones with the white faces.
We made a trip over Thanksgiving to check on things.  Thankfully we have had enough rain this year to go into winter with lots of grass and water in the tanks (ranch speak for ponds).  It was a relaxing week, watching the cattle graze, enjoying the late fall sunsets, and unplugging from the electronic world.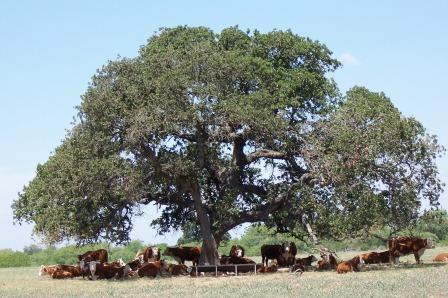 I wasn't always so fond of the ranch.  For someone used to lights and action, rural Texas seemed so ….. boring.  But Ed is a pretty shrewd guy, and a while back he got me my own horse, figuring I would want to go over often to visit.  It worked!  Ringo is the big boy on the left, with his BFF Sandy.  They just finished rolling in the dirt after a long ride.
Sit back and enjoy some scenes from the ranch.  It just might grow on you too!
Click on pics to enlarge

3 Responses to "Meanwhile . . . Back at the Ranch"
Leave a Reply