Christmas in the Country
Submitted by Cindy
My friends Jimmy and David have a fantastic second home an hour north of New Orleans in rural St. Tammany Parish.  Over twenty years they have transformed a barren piece of land into an estate with a fantastic house, lake, gardens, a greenhouse, and a commercial nursery.  The latest addition – just in time for the Christmas season – is a chapel.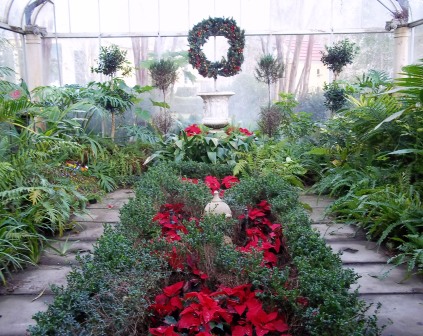 We were honored to attend their annual Christmas Open House last weekend.   I'm only showing you inside views today, but we'll go back in the spring when the gardens are in full bloom.   As always, the home was beautifully decorated, with holiday color in every room.
Click to enlarge.
You can't have a party in New Orleans without food, and David is a fantastic cook.  The old saying "you eat first with your eyes" is especially true here – just look at the artistic displays.  I wish that I had such attention to detail!  If  you're getting hungry, check out the recipe for Blue Cheese Pine Cones below.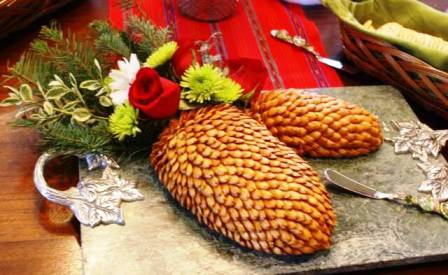 Click to enlarge.
Blue Cheese Pine Cones
2 packages (8 ounces each) cream cheese, softened
1-1/4 cups processed cheese sauce
1 cup (4 ounces) crumbled blue cheese
1/4 cup chopped green onions
1 tablespoon diced pimientos
1/2 teaspoon Worcestershire sauce
1-1/2 cups unblanched almonds, toasted
In a large bowl, beat the cream cheese, cheese sauce and blue cheese until smooth. Stir in the onions, pimientos and Worcestershire sauce. Cover and refrigerate until firm. On a serving platter, form cheese spread into a pine cone shape. Beginning at the narrow end, arrange almonds in rows.  Serve with crackers. 
4 Responses to "Christmas in the Country"
Leave a Reply