More Christmas Decorations
Submitted by Cindy
More Christmas Decorations
You've seen Christi's decorations, and now it's my turn!
I'm a fairly spontaneous decorator, but I've got a couple of guiding principles.  First, I love fresh greenery.  We had a tradition when I was little – "getting the pine".  We'd go out to the woods and my father would chop down a pine tree or two, using the boughs to decorate the house.  It smelled so great!  We now buy garlands to support a local school's fundraising efforts.  I make the rounds of tree selling operations in the area, gathering trimmings to use in vases and such.  There are also great things in the yard, alas, no holly berries this year.  Materials here courtesy of Lowe's, my front hedge, and a neighbor's kumquat bush.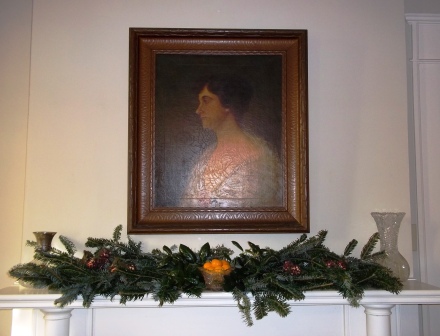 Second, I believe in recycling.  That's a polite way to say that I can't resist rooting through people's trash when the decorations start coming down.  I also save pics from flower arrangements, nifty ribbon, or whatever might have potential.  I redid our tired old wreath that I couldn't bring myself to pitch because it came from a friend's shop that's no longer business.   My neighbor tossed out a professionally created garland, lights, ornaments, beads, and all.  It lives on!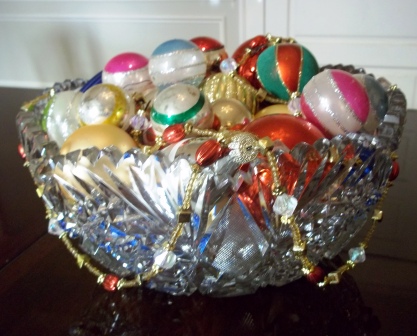 And finally, sentimentality wins out over sophistication any day.  Some objects appear year after year because they have become our traditions.  Others are remembrances of childhood, like the set of mice that my husband and his mother bought at an after Christmas sale.  Thirty-two cents each.  It just wouldn't be Christmas without them!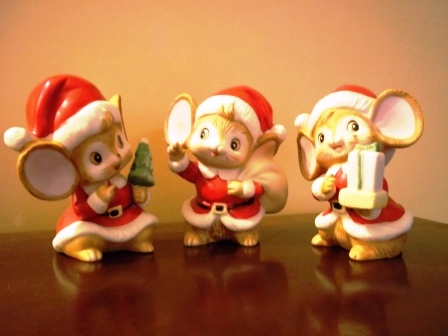 Have you noticed that there are no pictures of the tree?  That's coming next time.
Click to enlarge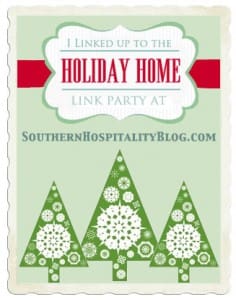 Leave a Reply