Ornaments, New Orleans Style
Submitted by Cindy
Decorating our Christmas tree is like a walk down memory lane.  We phased out the shiny glass balls many years ago. Each of our ornaments is unique, and most have a story behind them.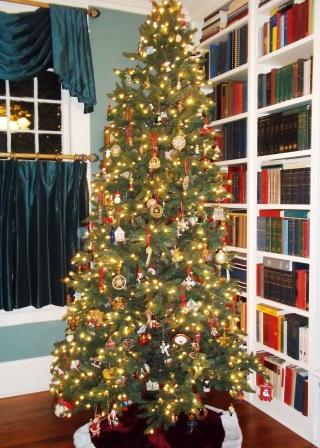 We have a sterling "Our First Christmas", but what I really remember from that year is the cute ornaments that Shell was giving away with a fill-up.  With a giant tree sitting in our almost bare den, we topped off the tank a lot.  My father adored the holidays.  One of his favorite places to shop was a Christmas store in Highlands, N.C., where he would buy me a special ornament during each summer's vacation.  My dear aunt Jocelyn always attached an ornament to my gift, with the year hand painted on it.  And so it goes …..people, places, and events from the past.
A nine foot tree can hold plenty of ornaments, so I'm only going to show you a few that depict New Orleans.  Bear with me – some will take a bit of explanation so you can appreciate them.
A local jewelry store occasionally issues ornaments commemorating various Mardi Gras organizations.  The first ornament below is a detailed replica of the 1893 Rex king's float, leading off a parade with the theme "Fantasies".    The next honors the Elves of Oberon, an organization dating from 1895.  Drawing from their Midsummer Night's Dream imagery, Puck (assistant to Oberon, the King of Fairyland) is poised to introduce his pranks at the krewe's ball.  The third depicts the invitation to Rex's ball of 1882, where the robes of the "Butterfly King" unfold to reveal the details of its reception themed "Pursuit of Pleasure".  Lots more about all this when we get closer to Carnival!
The rest are a bit easier to comprehend.  The fleur de lis has long been a symbol of New Orleans, and the jester is a popular Mardi Gras image.  Christi told you all about our streetcar a while back.  The little house reminded a friend of my first home, a peach colored shotgun cottage, a prevalent architectural form in this city.  The other building ornament commemorates the local Preservation Resource Center's first renovation, which began the transformation of skid row into a desirable neighborhood.  And I had to slip in a reference to my alma mater.
Enough talk!  Enjoy the pictures.
Click pictures to enlarge.
2 Responses to "Ornaments, New Orleans Style"
Leave a Reply