Wreaths and Garlands and Doors . . . Oh My!
Submitted by Christi
Recently, my husband and I took a walk down State Street here in New Orleans. It is a lovely tree lined street with beautiful homes and gardens. Now, at Christmas time, it takes on a whole new and beautiful look. I took lots of pictures and today, I want to share the doors with their festive wreaths and garlands and bows. Lots of eye candy here. Another reason to love New Orleans! Oh, and once you have seen all the pics, don't forget to check out the toffee recipe at the bottom.
Click on any picture to enlarge.

Today's Lagniappe: Christmas Toffee
Lagniappe (pronounced lan-yap) = a little something extra
Making candy around the holidays is a fun tradition, but sometimes, you just don't have a lot of time available for all that is involved. This toffee, made with saltines is a great time saver that tastes great and is easy.
Ingredients:
saltine crackers (enough to line a 13 x 18 sheet pan)
2 sticks of butter
1 cup of brown sugar (I used light but use whatever you have)
1 tsp. vanilla
1 12 oz. package of semi-sweet chocolate chips (you can use milk chocolate if you prefer)
toasted nuts (I used slivered almonds but chopped pecans or walnuts would be great too)
Instructions
Preheat oven to 350 degrees.
Line a sheet pan with aluminum foil and spray it generously with non-stick cooking spray (do not skip this step – trust me). Place saltine crackers in the pan with the salt side up – like this: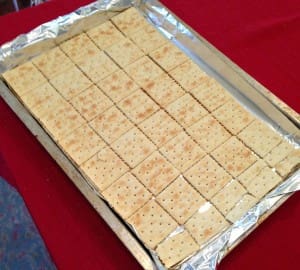 Melt the butter and brown sugar over medium high heat, stirring constantly. Bring to a boil. Let the butter and sugar mixture boil for 3 minutes (stirring to make sure it doesn't stick on the bottom). Remove from the heat and stir in the vanilla.
Pour the butter/sugar mixture over the crackers (be careful, it is very hot). Place the sheet pan in the oven and bake the toffee for 5 minutes. Remove the sheet pan from the oven.
Sprinkle chocolate chips over the top of the hot toffee mixture. The chocolate will melt. Once the chocolate has melted, spread it to cover the top of the toffee. Sprinkle the nuts on top of the toffee.
Let cool and then you can put it in the refrigerator to continue setting up. Once the toffee has set up, remove it from the pan with the foil lining. Either cut it up into small toffee pieces (as I do) or break it up. This is very rich so you will want small pieces.
Sorry, I forgot to get a "beauty shot" – guess I'll have to make some more 🙂
2 Responses to "Wreaths and Garlands and Doors . . . Oh My!"
Leave a Reply