Comfort Food Cook-a-Thon
Submitted by Cindy
I've been craving simple, home cooked food lately.  I'm still paying for the eating excesses of the Christmas holidays, and the less than nutritious fare of parade parties is just around the corner.  I devoted a dreary Sunday afternoon to restocking my freezer.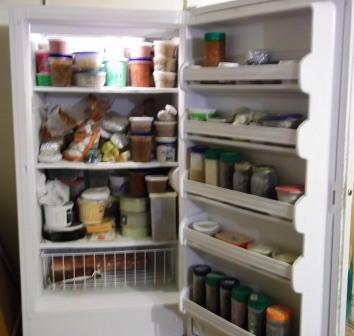 I'm sure the gourmands are rolling their eyes right now.  I'd love to cook an exquisite meal every night, but who realistically has the time?  Plus, most of my comfort foods are of the slow simmering variety – not the type of project you want to tackle after a long day unless your gang likes to eat at midnight.
Over the years I've perfected the art of big batch cooking, dividing the dishes into meal sized portions and freezing for later use.  Careful packaging and a manual defrost freezer are essential.  My recent projects were meat sauce for spaghetti and vegetable soup.  Many other recipes, such as chili, red beans, and soups (not cream) also freeze well.
I'll just need to boil up some pasta while I zap the sauce to serve up this meal: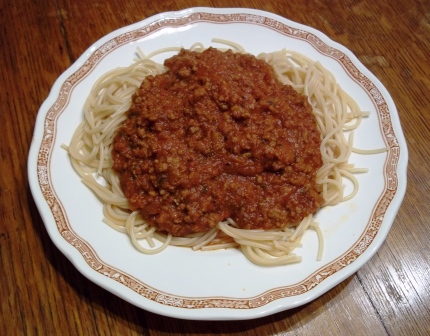 Or have this one warm me up on a freezing cold night: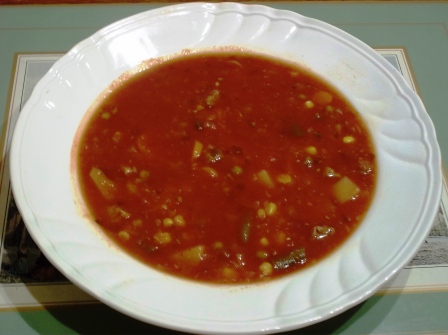 Jealous?  Get out your pots and pans.  Here are the recipes.
Click to enlarge:
Italian Meat Sauce for Spaghetti
3 pounds ground chuck
2 cups chopped onion
1 cup chopped green pepper
6 garlic cloves, minced
2 T. oil
3 35 oz. cans Italian plum tomatoes*
3 6 oz. cans tomato paste*
1 ½ cup water*
1 ½ cups dry red wine
4 t. oregano
4 t. basil
½ cup chopped parsley
1 bay leaf, quartered
2 T. salt
1 T. sugar
Cook onion, pepper, and garlic in oil until soft.  Add meat and brown.  Mash tomatoes.  Add remaining ingredients and simmer for 3 hours, stirring occasionally.  Serve over hot spaghetti.  Serves  10-12.
Note:  I substituted 5 cups tomato paste thoroughly mixed with 5 cups water for the starred items.  It makes a slightly thicker sauce that holds up well when frozen.
Vegetable Soup
4-5 pound chuck roast
3 onions, chopped
1 bell pepper, chopped
3 stalks celery, chopped
1 medium head cabbage, chopped
6 carrots, sliced
4 quarts (app.) tomato sauce*
4 medium potatoes, cubed
2 cans (14.5 oz.) each: peas, cut green beans, whole kernel corn
Salt and pepper to taste
In a large stock pot, cover roast with water and simmer 1 hour.  Remove and cut into cubes; return to stock.  (If the roast is fatty I refrigerate the stock after this step and remove fat.)  Add all ingredients except potatoes and canned vegetables.  Add potatoes after 2 hours.  Simmer until meat is tender and vegetables are soft, approximately 3 hours.  Add canned vegetables.  Correct thickness and seasonings.
Makes many servings!
Note:  This is an inexact recipe!  I use tomato paste in order to better control the soup's thickness.  (Buy an institutional size can.)  I generally blend the liquid from the canned vegetables into the mixture early on (why waste), holding the vegetables themselves to the end.  If the soup is too thick, add additional stock or water, mixing thoroughly.  A lot of salt and pepper is needed, especially if you use tomato paste – I used 5 T. salt and 1 T. pepper.
What are your favorite comfort foods?
4 Responses to "Comfort Food Cook-a-Thon"
Leave a Reply