Costume de Rigueur
Submitted by Cindy
Invitations to old line Carnival balls invariably contain the phrase "costume de rigueur".   You may know the attire for men under such terms as "full dress", "white tie", or "tails".  For ladies it means a floor length evening gown – no tea length or dressy pants permitted.
Ladies have it easy, but the process of getting dressed for men can be a bit daunting.  I'm going to walk you through it.  Here is the end result that you are after.  (The mask is normally not a part of the attire, but my model is shy.)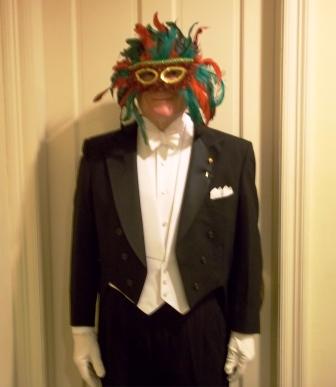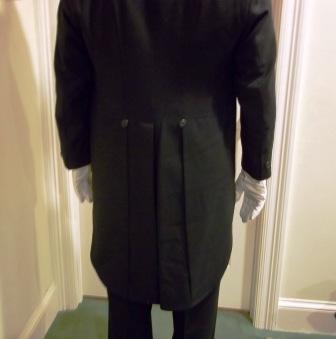 First, button the suspenders to the trousers.  (Suspenders are white – the black ones from your tux won't do.)   Make sure they are secure, since you don't want to lose your pants in the middle of a dance.  The next thing to go on after the trousers is the shirt.  What will be visible is the flat front pique insert.  The suspenders go outside of the shirt, otherwise you can't tuck it in.  Then comes the tie.  The model prefers the type you must tie by hand, but they also come pre-tied.  (Warning – the later you are running, the more time required to tie.)
Next, put on the vest.  There is usually an adjustment in the back so you can get it to fit snugly but not too tight.  Unless you are a contortionist, it really helps to have someone help you with this step!  Insert the cufflinks and studs into the vest and shirt.  (Warning – vests come in three hole and four hole models – make sure there are enough studs.)  You are almost done!  Put on your black tie up shoes, hopefully recently shined, and don't forget the white gloves.
Here's a closer look at the individual components.   Happy partying!
Click for more information and to enlarge.
5 Responses to "Costume de Rigueur"
Leave a Reply