Deck the Halls with Carnival Color
Submitted by Cindy
Carnival parades start in earnest this weekend, so I figured it was about time to decorate the house.  Purple, green and gold (especially purple) tends to clash with my décor, so the challenge is to achieve a festive look that you can live with for a couple of weeks.
Here is the dining room centerpiece, using ceramic masks that were favors at a formal dinner we attended, and beads in a cut glass bowl.  The gold "dubloons" are parade throws that typically reflect the year's theme.  These are from Rex.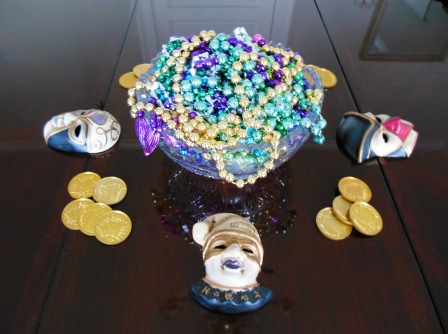 I did the pillow years ago to display pins given as "krewe favors" by maskers after a "callout" dance at a carnival ball.  Now, every king sends his lady friends a custom designed pin to mark his reign, and I have a whole drawer full of memories of various big nights.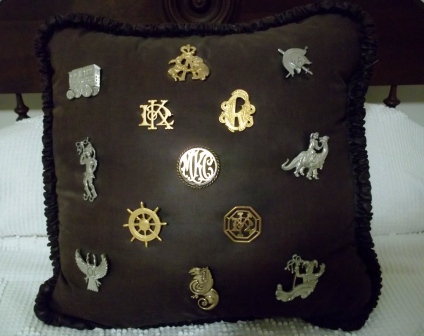 We have a number of seasonal stores here that sell nothing but Carnival merchandise, so finding things to decorate the house with is easy.  Over the years I've collected a variety of items – masks, banners, garlands, beads, and other decorative whatevers.  The boxes come out of the attic, and it all seems to find a temporary home.  Curious about the cows and little dolls pictured below?  Be sure to click on the pictures for an explanation.  And there will be a lot more about them in the next post.
Click to enlarge and for more information.
One Response to "Deck the Halls with Carnival Color"
Leave a Reply