Mardi Gras Gumbo
Submitted by Christi
It's been pretty rainy around here for the past week. The perfect time for gumbo. Okay, really any time is the perfect time, but today, it chased away the gloominess from the sky and helped restore the Mardi Gras mood.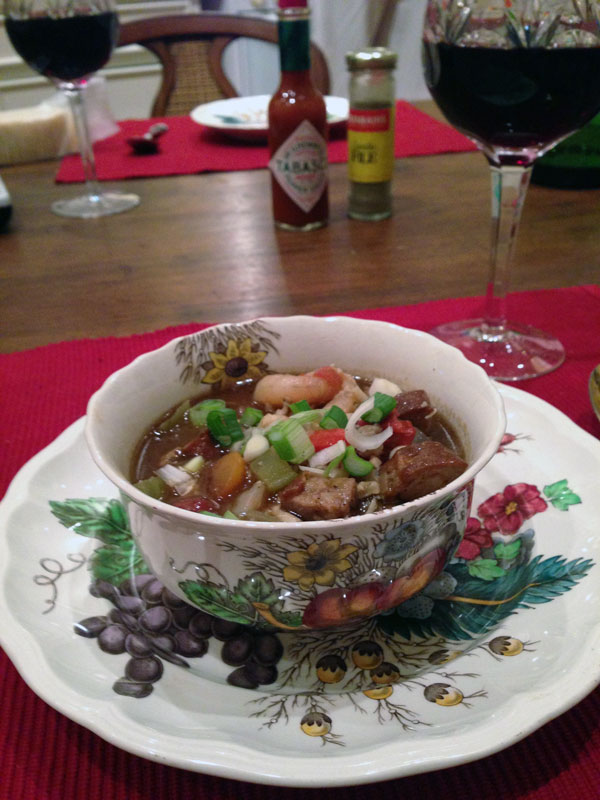 Okay, so I took a few shortcuts on the gumbo. Don't judge me for being smart enough to not try making this for guests on a weeknight when I've been working all day without cutting some corners. 🙂
So, here is my "hurry up version."
Christi's Hurry Up Gumbo
3/4 cup oil (I used a combo of bacon grease and oil because I had it on hand)
3/4 cup flour
1 cup chopped onion
1/2 cup chopped red and green bell pepper (if I have yellow, I also add that in – use what you have)
1/2 cup chopped celery
2 tablespoons chopped garlic (I used jarred garlic here)
3/4 cup diced tomato with onion and pepper (I used canned tomato to speed this up – and besides, they are not really in season right now – that's my story and I'm sticking to it).
salt to taste
pepper to taste
Cajun seasoning to taste
1 quart seafood stock (either make ahead or use the store-bought variety as I did – gasp!).
1 lb. small shrimp
8 oz. to 1 lb. lump crab (If you don't choose to add crab, you can just increase the shrimp)
1 cup diced andouille sausage that has been browned (to me the hardest part of making gumbo is getting the casing off the sausage).
In a  dutch oven, heat the oil over medium heat (I just happened to get a new cast iron dutch oven as a Christmas gift from my mother and bonus father). Add the flour and whisk. Continue whisking the oil/flour mixture over the heat until the mixture (roux) is the color of a pecan (kind of medium dark brown).
Add the onion, celery, bell pepper and garlic. Cook, stirring for about 5 – 7 minutes. Add the tomato and seasonings and stir until they are warmed up.
Whisk in the seafood stock. Heat until just boiling, then turn down the heat to a simmer. Cover and simmer for 45 minutes.
Add the shrimp, crab and andouille and return the cover to the pot. Depending on how your stove simmers, you may be able to turn off the burner at this point and let the seafood cook for about 10 – 15 minutes until the shrimp is cooked through. If your simmer is really, really low you may need to keep the stove on at a simmer for the 10 – 15 minutes to get the seafood cooked – just be sure to not over cook the seafood.
Serve over rice and offer File` and hot sauce along side.
You can also add okra at the same time you add the tomatoes if you like. I finally ran out of the okra that I grew and froze and just haven't gotten any from the store yet.
By the way, I pre-chopped the onion, celery and bell pepper (known as the "trinity") the day before which made it even easier to put together.
Believe it or not, even though I took some shortcuts, this really does taste really good and I always get compliments and requests for the recipe; so, there you have it!
6 Responses to "Mardi Gras Gumbo"
Leave a Reply