Mardi Gras Tablescapes (and Valentine's Too)
Submitted by Cindy
New Orleans is in for a busy holiday period, with Valentine's Day coming just two days after Mardi Gras.  My friend Sherry, a talented designer, gave an inspiring presentation today on festive table ideas.
Sherry had great advice for us novice decorators.  Don't be afraid to experiment.  Shop from your closets and attics first, and think of new uses for your old objects.  Discount stores such as Target and Tuesday morning – or even drugstores – can be inexpensive sources of novel accessories.  Let's look at some of her tablescapes to get the creative juices flowing.
Mardi Gras décor does not have to be gaudy – astromania and lilacs combine to provide a pleasing purple theme for this table.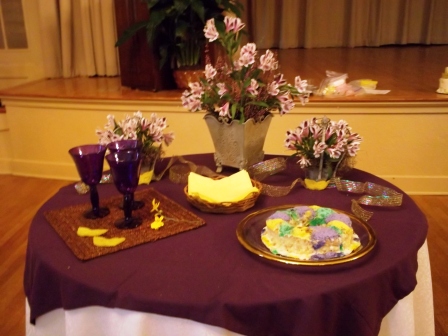 The same principal is seen here, where pastels carry out the purple, green and gold theme.  Note the crown, one of our favorite carnival symbols.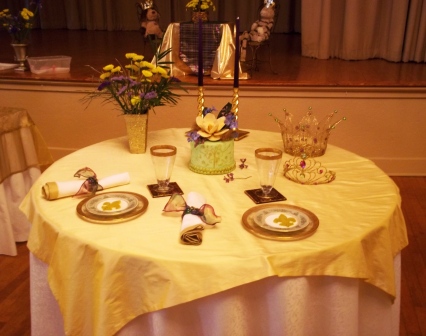 How cute is this?  The children will absolutely love it!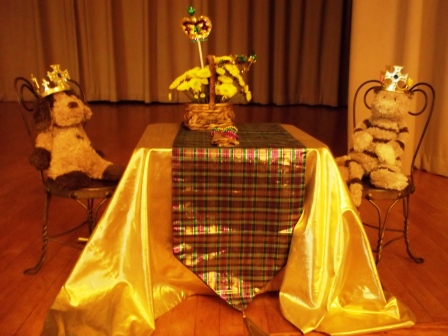 This one started as a Mardi Gras table.  Since the basic theme was in silver and gold, it could be quickly transformed into a Superbowl setting through some accessory swaps.  (Note the carnival flowers on the stage behind.)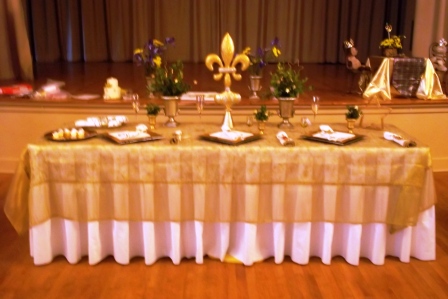 On to Valentine's, since we won't have much time to prepare.  Use your favorite china – you don't need red plates to develop a Valentine's theme.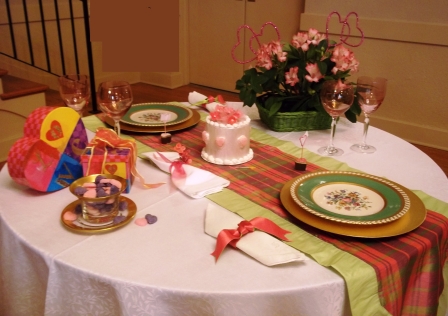 And finally, another one for the kids.  They'll all want to be your Valentine.
Look closer at some of the details.  Getting some new ideas?
Click to enlarge.
One Response to "Mardi Gras Tablescapes (and Valentine's Too)"
Leave a Reply