No Bake King Cake
Submitted by Cindy
Have you ever wanted to make a Mardi Gras king cake but were turned off by the complicated yeast bread recipes?  Here's a quickie recipe with beautiful results – and no cooking necessary.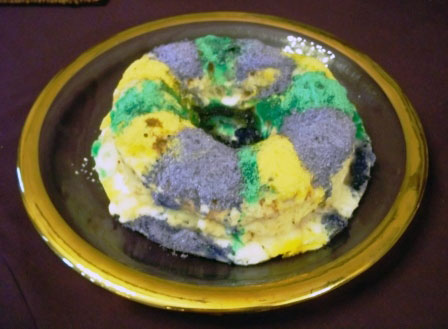 I attended a presentation today given by Cindy Pagragan of Cindy's Sweet Sensations.  She showed us slides of her exquisite novelty and wedding cakes – have you ever seen one in the shape of a castle?  She taught us some fascinating things about cake icings, such as the trade-offs of transfat vs. smoothness and stability.  But what I really want to share with you is her creative king cake recipe.  This is the secret ingredient: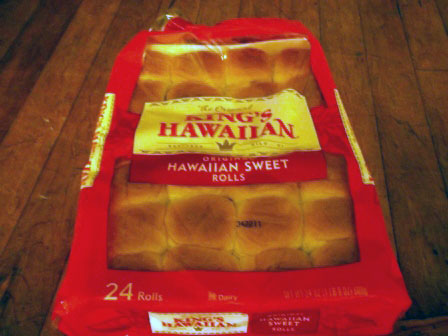 No Bake King Cake
King's Hawaiian Sweet Rolls (24 oz.)
2 oz. butter, melted
Cinnamon sugar
Colored sugar
Vanilla glaze
Arrange the rolls in an oval shape on the serving plate.  Brush the rolls with melted butter.  Sprinkle with cinnamon sugar.  Glaze.  (It needs to be thick but able to spread on its own.  Adjust recipe below as needed.)  Decorate with colored sugar.
Cinnamon Sugar
¾ cup dark brown sugar
½ tsp. cinnamon
Vanilla Glaze
16 oz. powdered sugar (1 box)
1 to 2 ounces milk
1 tsp. vanilla (optional)
Whisk together until smooth.
Colored Sugar
Granulated sugar
Coloring agents (concentrated paste, soft gel paste, or food color)
Place sugar in a stainless steel or glass bowl and mix with the agent so that the sugar crystals are saturated.  Add color in small amounts – a little goes a long way.
Leave a Reply