Report from the Rex Den
Submitted by Cindy
The central command post for the Rex parade is housed in a nondescript industrial building.  For most of the year it just serves as a workshop for float construction, but really comes alive with activity as Mardi Gras day approaches.  I recently attended "Ladies Day at the Den", and wanted to share some photos with you.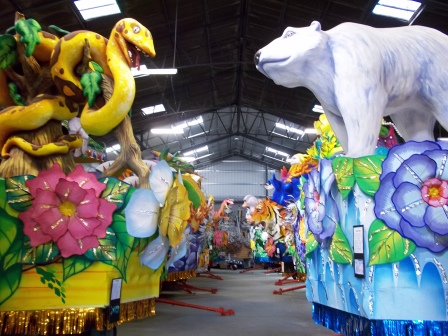 The theme for this year is "All Creatures Great and Small", a line taken from an 1848 poem by Cecil Alexander.   I can't show you the floats for this year, but they always beautifully and artistically develop the chosen theme.  Since they are built on the chassis of old cotton wagons, they shimmy down the street, adding to the magic of the presentation.  Tractors now replace the mules that originally pulled the floats.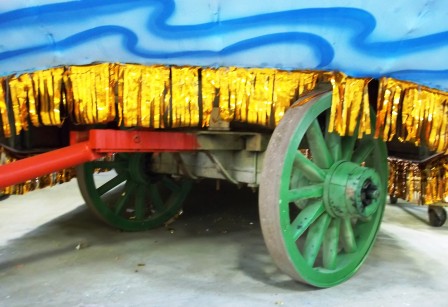 So you can appreciate the workmanship, here are a couple of floats that are yearly traditions.   The Boeuf Gras or Fatted Calf appears near the beginning of the parade, symbolizing the last day to eat meat before Easter.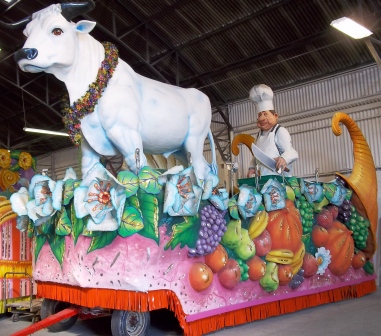 The Streetcar serves as a comfortable ride for the older members, where they can sit a spell if they grow weary.  It is an absolute no-no for the general membership to sit, or to remove their mask or gloves.  Violators will be fined!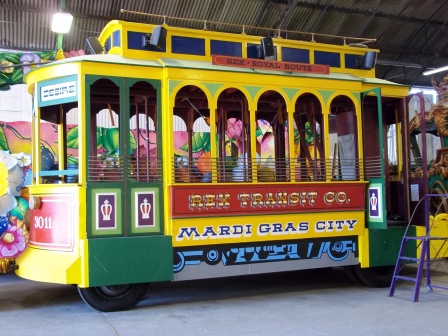 The den also serves as the place where krewe members don their costumes.  Since their throws are already on the floats, they just need to hop on, tractors pull them outside, and the parade begins!  (I'm understating the tremendous amount of logistical work that makes this all happen.)
The costumes of the lieutenants (the guys who ride on horses) were already at the den.  A new display featured the dress worn by a previous queen and the tunics worn by a king.  Do you believe that all this is hand beaded?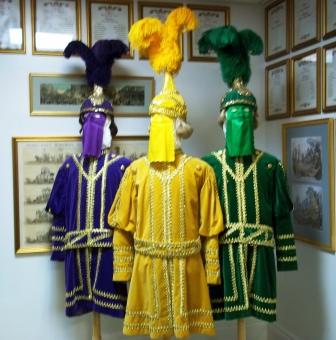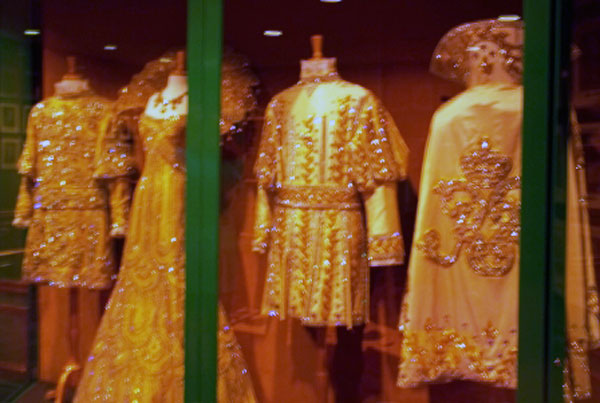 Here are some more photos.
Click for more info and to enlarge.
Want to find out more?  Here is the Rex web site:  http://www.rexorganization.com/.
One Response to "Report from the Rex Den"
Leave a Reply