Rex Paraphernalia
Submitted by Cindy
Rex (or the School of Design as it is officially named) is the big parade on Mardi Gras day.  Its monarch serves as the King of Carnival.  The organization is quite civic in nature, with its Pro Bono Publico foundation donating over two million dollars to local public school initiatives since its inception.  Over the years we have collected a variety of Rex memorabilia.
Each year the organization issues a ducal badge to its members.  There is a corresponding ladies' pin, which members may purchase for wives and female friends or relatives.  Here are the ones for 2013, reflecting the theme "All Creatures Great and Small".  It is inspired by the gauntlets worn by the 1886 Rex.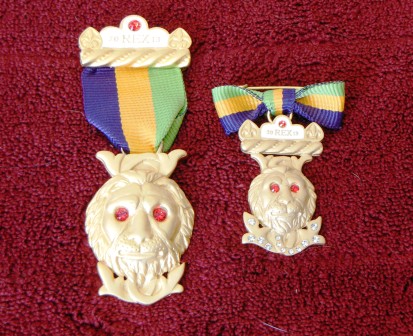 In addition to beads, a number of other items are thrown during the parade.  The hot new toy for this year is a Rex riding crop.  Another new feature is a different bead for each float, reflecting its title.  Some of the items below have been around for a while, but they were "must haves" when they first appeared.  You will notice recurring themes – the "fatted calf" or Boeuf Gras, costumed dukes, and crowns.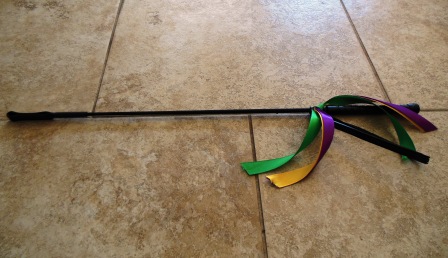 Click to enlarge and for more information.
A limited amount of Rex merchandise is available for public purchase through an outside vendor.  Here is the Proclamation for 2013, which I think is quite attractive.  They also sell a Parade Bulletin, with a schematic design of each float.  Proceeds benefit the foundation.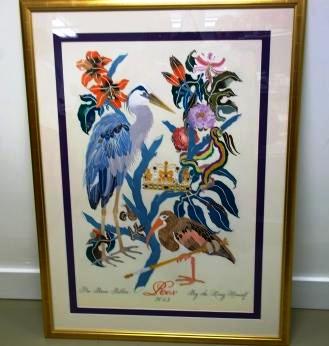 Other goodies may be purchased by the members.  This ceramic Boeuf Gras with a bobbing head takes up residence on my coffee table each year.  Check out some of the other items below.  Can you tell that we have a shopper in the house?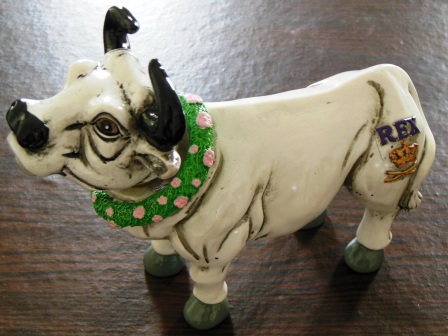 Click to enlarge and for more information.
One Response to "Rex Paraphernalia"
Leave a Reply