Cream Soup a la John Besh
Submitted by Cindy
I attended a program last week featuring the noted chef John Besh as speaker.   A native son, he is "dedicated to promoting the foodways of Southern Louisiana".  Chef Besh owns nine restaurants and hosts a syndicated TV show, but he gets equal satisfaction from cooking for his wife and four sons.   He prepared cream cauliflower soup for us, a simple dish in line with his latest book – My Family Table: A Passionate Plea for Home Cooking.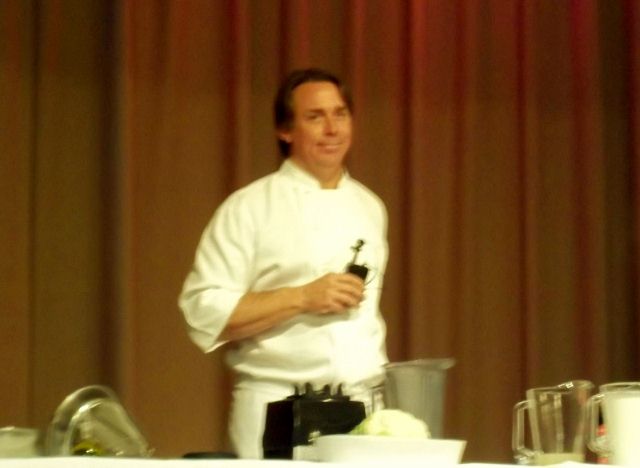 This is my kind of cooking – no firm recipe, just throw in a bit of this or that.  Use ingredients that you have on hand, and feel free to make substitutions.  (I doubt if my creations would turn out nearly as tasty as his!)   Of course, a couple of non-staple items can add a special pizzazz.  While the soup was cooking, Chef Besh gave lots of cooking tips, and entertained us with stories from his cooking career.
Here are the directions – the process can be used for any type of vegetable soup.  Sautee a leek (or onion) and garlic in olive oil until soft.    Add the cauliflower and cover with good chicken stock.  Cook slowly.  Add a little cream and bring to a boil.  (Rather than adding cream at the end, the reduction adds to the velvety texture.)  Cut a potato into small uniform pieces and add.  (The potato rather than the cream is what binds the dish together.) Add a touch of salt, pepper, cayenne pepper, fresh thyme, and a bay leaf.  Cook until the potato is soft in the middle but the cauliflower still has some texture.  Puree in a blender.  Garnish with chopped chives.  For special occasions add a little crabmeat (or other seafood) or caviar.  For our demonstration, a splash of Meyer lemon olive oil finished off the dish.
We all got a sample.  The photo doesn't do justice to the soup (most of my caviar had sunk to the bottom).  Yum!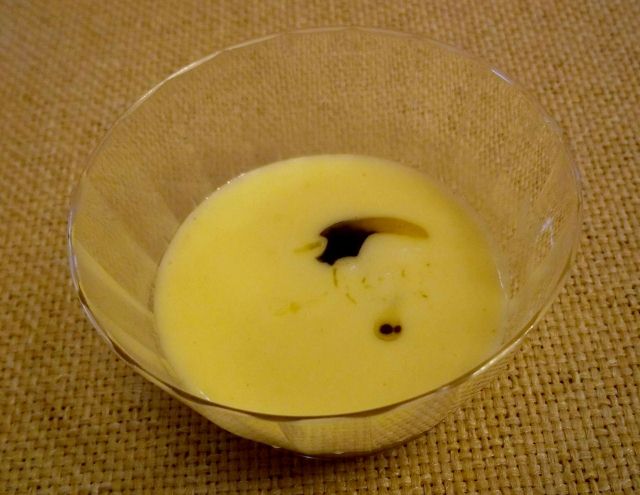 Click to enlarge and to view captions.
Hope you are inspired to do some home cooking. Linking to Foodie Friday today. Happy Friday!
Leave a Reply