Lots of people visit New Orleans for various reasons. One of those reasons is to watch your favorite team compete in the Sugar Bowl on New Year's Day. This year, we will be welcoming fans of the Oklahoma State University Cowboys and the Ole Miss Rebels.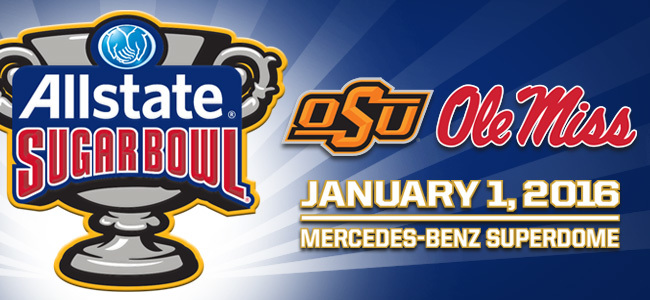 It looks like the weather will be a bit cool (50's – 60's) with the possibility of a little rain. That shouldn't keep you from enjoying this beautiful city! There are plenty of things to see and do while you are here. There are many events planned for the Sugar Bowl and also events that are not related to the Sugar Bowl. You won't even have time to notice the weather.
There will be fireworks over the Mississippi River and you can watch the fleur de lis drop over Jax Brewery at the NOLA New Year's Eve 2015 event. It begins at 9 p.m. and is free and open to the public. It includes live music from: Like Winslow King, Cyril Neville's Swamp Funk and special guest Big Chief Monk Boudreaux.
There are plenty of options for watching the fireworks as well as many other events going on. Check them out at NOLA.com.
Also, be sure to check out the French Market and Jackson Square and the obligatory beignet and cafe au lait at Cafe du Monde.
There is a great little bookstore on Pirate's Alley where Faulkner used to live. If you love bookstores, be sure to stop by there.
One of my favorite places on Chartres Street is Lucullus. It is a culinary antique shop. So much fun to browse. I have a great absinthe spoon that I bought there years ago.
This list could go on and on and on. New Orleans is a city that saturates the senses. There is music everywhere you turn. The smell of amazing food is everywhere, albeit, occasionally interrupted by some not so great smells. Have fun, and follow some of these tips:
I recommend that you just avoid Bourbon Street altogether, unless you are going to Galatoire's.
If you are going to Galatoire's, jackets for men are highly recommended. This is the case for many of the lovely dining options in New Orleans. There are also many casual options as well. Just be prepared.
If you are drinking (and even if you are not), PACE YOURSELF! New Orleans has brought down many with its carefree attitude towards libations. Really, just pace yourself. 'Nuf said.
If you are in the French Quarter, you will be approached by panhandlers. I always refer them to the New Orleans Mission or Ozenam Inn. They already know about these places where they can get food and shelter and help, but they would rather have cash instead. It's your call, but giving them cash is not helping them… just sayin'.
Get out of the Quarter – take the St. Charles Streetcar and see the Garden District and Uptown. Take the Canal Streetcar out to City Park. It is one of the most beautiful parks in the United States. The New Orleans Museum of Art is located there. Check out Audubon Park and Audubon Zoo.
Check out the Pontchartrain Lake. Lakeshore Drive on the lake offers some great dining options with views of the lake.I recommend The Blue Crab.
Uber is a great way to get around the city for places that aren't easy to reach by foot or streetcar. No need to carry cash. You sign up in advance and everything is handled without money changing hands. You can choose our driver based on reviews by other riders. If you haven't signed up with Uber, you can use my code –  christiw103ue – to get your first ride free (up to $15), and I'll get a free ride too!
Hope everyone has a fabulous time! If anyone would like to add other tips, places to see or ask questions. feel free to do so in the comments.
Love ya,
Christi