Carnival King Cake Is Here
Submitted by Christi
Don't miss a thing.
Subscribe to A Southern Life
Just in case you haven't had enough king cake yet, here is another helping. I saw an article on NOLA Eater the other day, discussing some of the incredible variations on king cake. There are king cake donuts, king cake floats, king cake pancakes, king cake soda, king cake vodka (yes vodka), and the list goes on. Apparently, there is no end to variations on the king cake theme. With that in mind, I searched through my own cookbooks and looked at recipes online to come up with a basic king cake dough that can be filled with any number of fillings.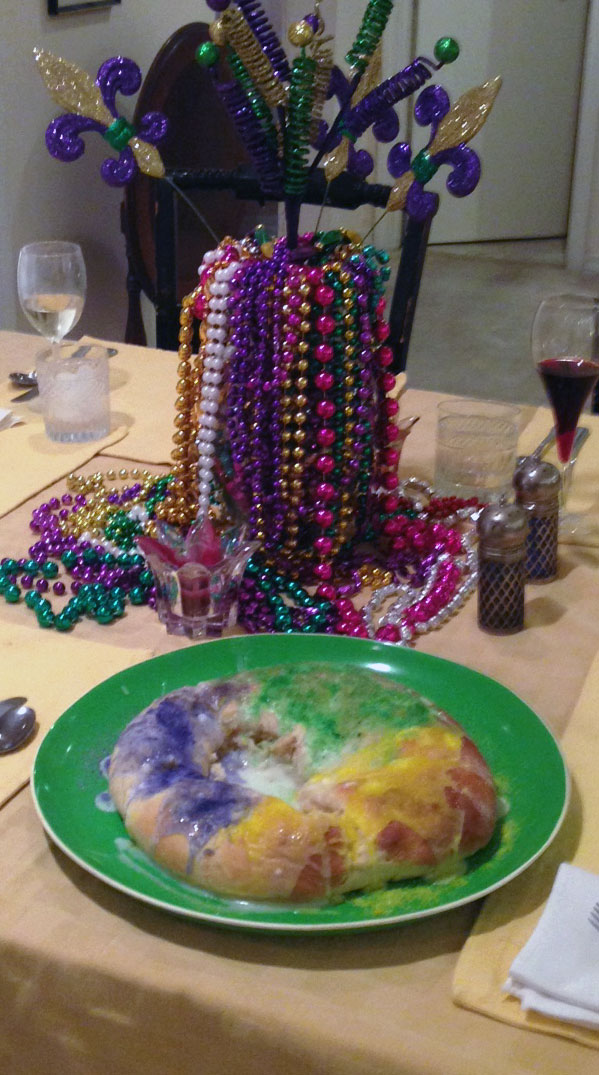 I went back to one of my favorite roll recipes and made some variations to come up with a tender, light version of cake. Traditional king cakes tend to be somewhat dense and sometimes a little dry. This version is lighter and flakier. I filled it with a cream cheese filling, but you can use your imagination (see the recipe notes).
If you have a plastic baby to insert, that's great, but if not, you can use a bean. Beans were the original prize in the cake. Either way, the baby or the bean should be inserted into the cake from the bottom, after it has been baked. We don't want any melted plastic babies!
I made my own colored sugar with plain white sugar and gel coloring. I put the sugar in a plastic bag and added a bit of gel coloring (a little goes a long way) and mushed it around to color the sugar. I added more coloring as needed to get the desired tint. This was much more economical than purchasing individual colors of sugar, and I get to make the color I want, when I need it.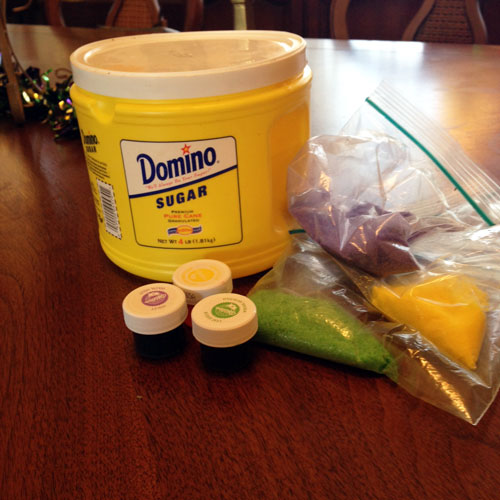 Try this out and let me know what filling you used. If you take pictures, send me one at christi@asouthernlife.com so I can share them.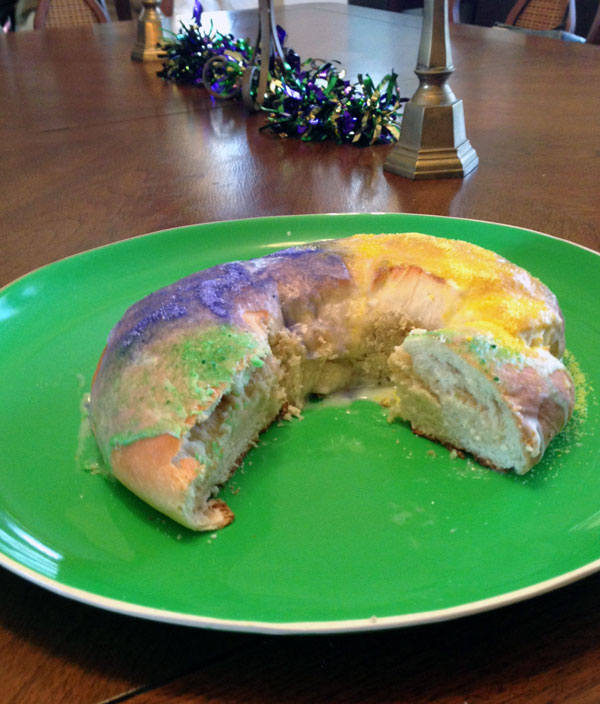 This cake is light and tender and oh, so good!
Stir yeast into warm water in a small bowl and set aside to proof while you gather other ingredients.

Mix together sugar, salt, eggs and sour cream in a large bowl. Add yeast mixture. Add flour to mixture using a spatula to incorporate, making a soft, moist dough. Cover and let rise until double (around 1 1/2 hours)

Turn dough out on to a floured surface. Dust with flour as needed to enable you to roll out the dough. Roll the dough into a rectangle (this is for a large cake - if you would like 2 smaller cakes, cut the dough in 2). Spread filling on the dough leaving a little space on the edges. Roll the dough (starting from the long end) and form the dough into a ring, pinching together the seams and the edges.

Let the formed dough rise for until double - about 1 hour. Bake at 350 degrees for 13 to 15 minutes.

Let the cake cool. Mix together the powdered sugar with enough milk to create a spreadable glaze. Add lemon extract to the glaze. Spread the glaze on the cake and sprinkle with the colored sugars.
The filling for this cake is traditionally a cinnamon and sugar mixture. For that filling, spread softened butter on the rolled out dough and sprinkle with cinnamon sugar.
I filled the cake with a cream cheese mixture which was 8 oz. softened cream cheese and 1/2 brown sugar combined.
You can fill this cake with whatever you like. You might try an apple pie filling or a praline filling. I've seen cakes with a banana filling and a caramel glaze. So many possibilities . . .
One note: It is best to plan ahead. Get your ingredients out early and bring everything to room temperature before you begin. Make sure the butter and shortening are soft so they will incorporate easily into the dough.
Don't feel like making it from scratch? Order a box of Mam Papaul's King Cake Mix here:
[wpsc_products product_id='6707′]
Today, I'm joining Metamorphosis Monday at Between Naps on the Porch
Leave a Reply